Anita Mäkelä defends her Top Fuel title in great style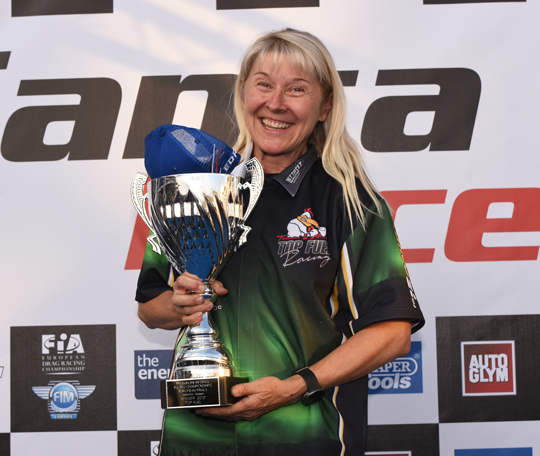 As the reigning champion, Anita Mäkelä was challenged several times this season. But with four race wins, one runner-up position, numerous 3-second runs and only losing two elimination runs out of six events, Mäkelä claimed her second consecutive FIA European Top Fuel title and her fourth in total. The Tommi & Anita Top Fuel Racing dragster will bear that number 1 with pride again in 2020 and the team will do everything they can to repel all the attacks of the up-and-coming competition.
After her dominant performance in 2018, Anita Mäkelä started the 2019 season as the clear favourite in the 2019 FIA European Top Fuel Championship. The Finnish team met those expectations in great style by claiming the number one qualifying position and race win at The Main Event.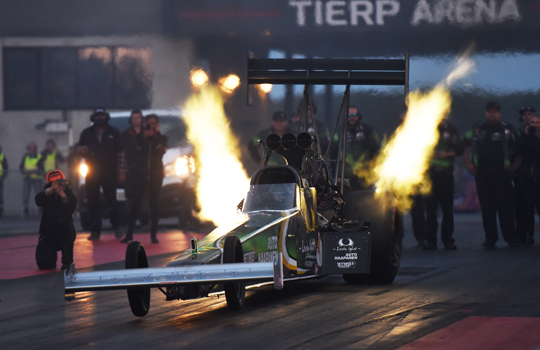 Mäkelä also won the second round of the championship at Tierp Arena and dominated qualifying at the new Kauhava track. Her home race has almost never been her luckiest event and the 2019 edition was no exception. The fan favourite was defeated in the first round, her first loss of the season.
At Hockenheim Mäkelä bounced back with another number one qualifying position and a race win. The Summit Racing Equipment Internationals at Tierp Arena was another great race, and although she lost in the final against Maja Udtian, the gap to her nearest rival with only the European Finals to go was 61 points.
At Santa Pod Mäkelä and her team proved that they deserved the title better than anyone else as she won the race in dominant style. With her fourth win of the season Mäkelä claimed her second consecutive title with a 124-point advantage over Udtian.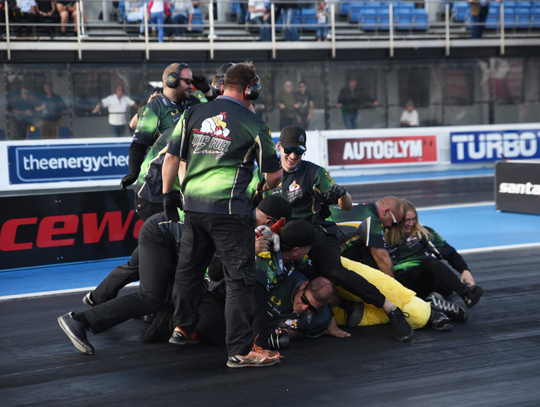 After winning the FIA European Top Fuel Championship in 2000, 2016 and 2018, the 2019 title was Mäkelä's fourth, and as icing on the cake, she was inducted into The British Drag Racing Hall of Fame for her vast achievements over her 30-year drag racing career. Besides winning a third title in a row, Mäkelä wants to rectify in 2020 the fact that she lost her European ET and speed records this season to Maja Udtian and Jndia Erbacher.
You won your second consecutive championship last season. How do you look back at last season?
My championship comes because my team can work fast and make the car run consistent. Still the consistency counts most. European Top Fuel racing did raise the level and there are many competitive cars. This is good for the sport.
What was your best race and what was the most important race for winning the title?
Winning the first race of the season always gives a nice boost for the rest of the season
Most proud of in 2019?
I´m most proud of my crew.
Worst/toughest moment of the season?
That was losing the first round at Kauhava at my home race in Finland.
Toughest competitor in 2019?
Each car can run fast, so you have to beat them all if you want to win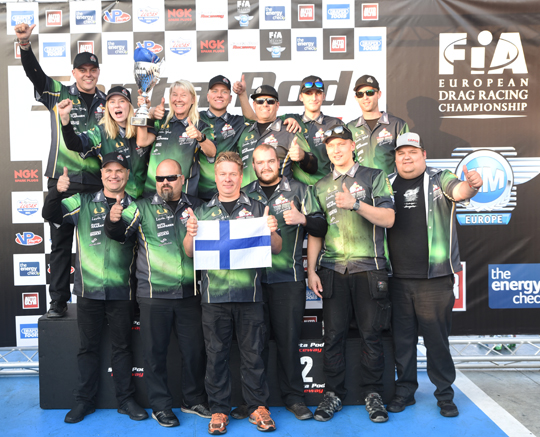 People/companies you want to thank?
Special thanks go to the USA to Bobby Lagana and Kevin Secco. I also want to thank my family, Tommi, Hanna and Heikki; a family that race together, stay together. And my crew Sami, Ben, Ville, Rami, Matti, Kai, Santeri Toppari, Santeri Tarkkanen, Janne, Simo, Matilda and Pia, it is a pleasure to work with you. And also to Barry Sheavills for his nice words at Hockenheim, to Keith Bartlett for working for our sport, and to all the track crews for their good work to make it possible for us to run so quick and fast.
Plans, goals and expectations for 2020?
Our plan is to hold the number 1 still on our car. And to get back the European ET and speed record from the sweeties Maja and Jndia.