Ida Zetterström, a dream season with highlights only
Race winner, EDRS Pro Nordic MC Super Street Bike champion, first female rider to win a race and a title in the EDRS Pro Nordic MC Super Street Bike category and winner of the VP Racing Fuels Special Award for the rider with the most notable achievements in 2019! It's hard to deny that 2019 was a dream season for Ida Zetterström, in which she rewrote the SSB history books and claimed almost all prizes.
Ida Zetterström started the 2019 season with a new bike, Lucky 13, the bike Alandia Motorsport bought in the States at the end of the 2018 season. It was a lucky marriage almost from the very first moment, as personal bests were reset numerous times, and when the season progressed, the race results were getting better every time.
Before the start of the EDRS Pro Nordic Motorcycle Championship, to get familiar with the new bike, Zetterström and her team travelled to Santa Pod for The Main Event. At the opening round of the EDRS Pro Nordic MC at Tierp Arena, Zetterström claimed the second qualifying position with a great 7.11 seconds and was defeated in the semi-finals. Kauhava was one step further up the ladder with a runner-up finish and the second position in the championship standing.
Round number three at Gardermoen made history as Zetterström claimed the race win, being the first female rider to take the win in an EDRS Pro Nordic MC Super Street Bike race. Because she defeated Vesa Ruhanen in the semi-final, Zetterström closed the gap to the championship leader to 15 points. The Summit Racing Equipment Internationals at Tierp Arena, the grand finale of the EDRS Pro Nordic MC, was a real thriller where the title race was decided in favour of Zetterström. After claiming the second qualifying position with 7.02 seconds, Zetterström had to face Ruhanen in the semi-final. The winner of this race would also claim the 2019 championship.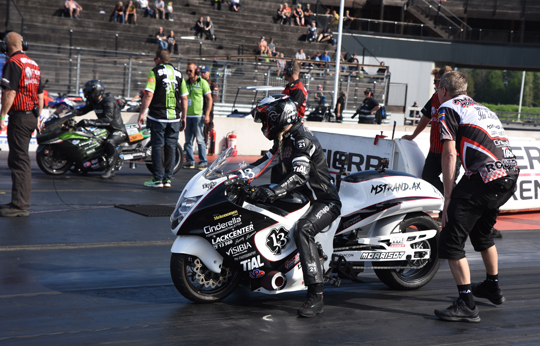 The title fight was decided before the start, as Ruhanen suffered problems in the burn-out, thus Zetterström was the new champion, the first female EDRS Pro Nordic MC SSB champion. In the final Zetterström reset her personal best to 7.016 seconds, and although she was defeated by Mathias Bohlin, nothing could spoil her dream as she was the great winner of the 2019 season.
You won the 2019 EDRS Pro Nordic Motorcycle Championship in the Super Street Bike category. It was your first title, you won your first race and you got a special award on the EDRS Prize Giving Gala. How do you look back at last season?
Oh wow, it has been an amazing season for us. We really did a huge amount of work for this season with the new bike and I just can't be more satisfied with what we have accomplished this year. I knew we had the strength to do great things, but I just did not know we would be able to put it all together so fast. This was a strong comeback for our team after having a rough 2018 season. It feels great for all the sponsors that have believed in us from the beginning to be able to show them that we could get it done. I'm proud.
You started the season with a new bike. How difficult was that and when did you feel comfortable with it?
It was difficult, especially since the testing we should have gotten in the US was rained out, and there was no opportunity for us to test before the season start here in Europe. I really felt like a rookie showing up at Santa Pod for The Main Event. We decided we would run a mid track pass and shut off, since I have never run at Santa Pod either, new bike & new track. The first pass felt solid though, so I decided to stay in it and we got a new PB right away of 7.28 seconds. I must say I felt comfortable at the bike right away, but it was actually at the race in Norway after we had made some more changes to the bike that I really started feeling one with it. Which shown with both a new PB and a win.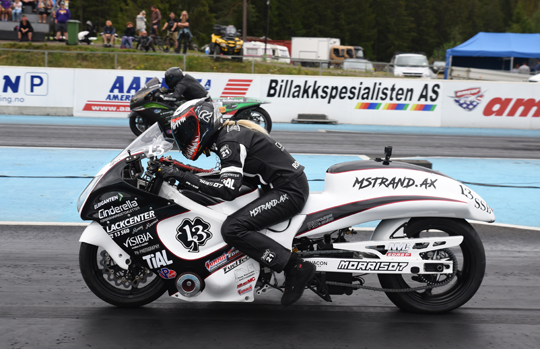 What was your best race and what was the most important race for winning the title?
Best and most important race for me was the race in Norway. We were told when we came there that we did have a chance to win the championship – if we took Vesa out earlier than the final and if we won the whole event. I must admit I thought "yeah right, like that would happen". I can add that we have had an ongoing battle with Vesa for 3 years and up until this point the score was 6-0 to Vesa. We qualified 2nd and were fastest of the session in several rounds. In the semi-finals we were up against Vesa, who had set a new track record the round before. This is the most nervous I have ever been, but we got the win. In the finals we had the No. 1 qualifier Matte Bohlin and we knew we had to bring our A game to win, which we did and we won while also setting a new PB of 7.10 seconds. Our first ever win in SSB and the battle for the championship was still ongoing. This event was also very special for the whole team since Kim crashed here at last year's event, leaving in a helicopter and had a long recovery after. I must admit I dreaded going back here and slept almost nothing the night before, but it didn't get to me when I put the helmet on. We left Gardermoen with a new positive feeling and I think it was very well needed for the whole team.
Most proud of in 2019?
Most proud of my team for working so hard and finding the right settings so fast. Proud of our series win, going in to the low 7.0 seconds and picking up our first win at Gardermoen!
Worst/toughest moment of the season?
The first qualification round at Tierp Arena in June. I crashed here on my last race of the 2018 season in the shutdown area on the right side. This was the first time back here and I got the right side first round out, tried to not think about it. But then Janne Koskinen crashed his Pro Stock Motorcycle just before we were going to go out, in the right lane, almost at the exact same spot as I did. I got nervous and we decided to only run half track to shake it off, but the pass felt so good, I stayed in it and we got a new PB of 7.11 seconds, apparently I run pretty good under pressure.
Toughest competitor in 2019?
Vesa Ruhanen for sure, he has always been my toughest competitor since day one, and I can tell you it was great mentally to finally get a win over him! But also Matte Bohlin, I have had my tightest races against Matte this year and he is a really great rider. In the European series I have to say Alex Hope, we have had similar ETs in qualifying, sometimes exactly the same ET actually. And all races we have had this season have been really tight.
People/companies you want to thank?
I have a lot of people to thank, of course my great team, crew chief and spider in the web – my Dad. Engine builder and mechanic Kim, our tuner Arttu and Mom for always getting us food and taking pictures. And Minna, for letting us steal Arttu for most of the summer. I really want to thank our main sponsor Janne Eklund / Mstrand.ax for helping us out from the very beginning to get where we are today. Morris07 for helping out with the race in the US and all that you have done this season, I'm very grateful. Cinderella – thank you for believing in us, looking forward to another great 2020! And Lackcenter – for repainting the whole bike, including frame and everything for this season, it looks really flawless! I want to thank all our great sponsors for this season, Tial Sport, Mekonomen Åland, Tonys Gräv, RS-polering, PH-photography, Vianor, Visibia, RS Polering, Pro Sound, Ljungdahls verkstad, Route 21 racing and Björntjänster.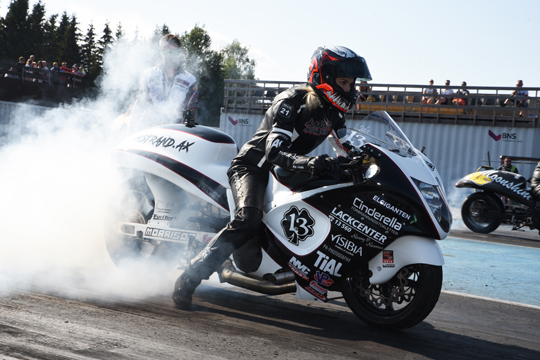 What are your plans, goals and expectations for 2020?
We are just now getting everything worked out for the 2020 season. The goal is to run the full FIM series and as many of the EDRS Pro Nordic MC events as possible. We are making some changes to the bike and our goal is to find the right tune for the new things as soon as possible. And with a PB of 7.01 seconds, we will fight for a 6-second pass next season.
Anything else you want to tell in the article. 
We are happy to announce a bigger partnership with Tial and Xona rotors for the 2020 season, which we are very excited about. I also got a really fun video project coming with a fellow racer. I recommend you to keep your eyes open for that. I think it will be really fun! And last of all I just want to say thank you to everyone that has helped us out, cheered us on, believed in us and congratulated us, thank you so much!
alandiamotorsport.com
facebook: Alandia Motorsport
Instagram: @dragsterfia