Robin Norén step-by-step to the Pro Stock top
Drag Racers are an eclectic and generally likeable bunch of people and all have a story of how they came to be at the track racing, crewing, marshalling or spectating. Among these stories there is occasionally one that stands out a little higher than the rest. Robin Norén's is one such story. When I first met Robin and his team, they were attending the Main Event at Santa Pod in 2017. Travelling in a converted removals truck which I think is older than Robin, the team made an immediate impression on me. As we got to know them better, we realised that this was a team driven by a love of racing, a love of engineering and a competitive spirit that could not be diminished.
Pelle Norén, Robin's father and the crew chief of the team, explained how they came to be a Pro Stock team. Pelle had raced successfully in Super Gas in a Chevy Nova for some years, so Robin had been at the track from an early age. "As soon as he was old enough to drive Junior Dragster, it became obvious that he wanted to race. We never put him in a Junior, but in 2010 Robin bought a Dodge Daytona from Thomas Lindström, who would also go on to great success in Pro Stock a couple of years later."
In May 2011, just two weeks before taking his licencing passes, Robin very suddenly became ill. A brain tumour was diagnosed that was causing a restriction to the flow of cerebrospinal fluid which resulted in a partial temporary paralysis. Robin underwent an operation to alleviate the symptoms, but not to remove the tumour. As soon as he was able to be discharged, and in true racer fashion, Robin went straight to Tierp where Pelle was crewing for Mats Jacobsson on his Pro Stock car, and it was likely here that he decided to aim for the Pro Stock ranks. Unable to drive until he recovered full fitness, Robin was forced to watch the 2011 season pass by. His road to recovery went well enough that his licence was granted in 2012 and Robin finished as runner up in the Super Comp class that year. Pelle explains that this was just the beginning of "some foolish remarks" that would shape the future.
Pelle told Robin that if they won in Super Comp in 2013, they could step up to Comp Eliminator the following year. Robin delivered the Super Comp Championship in 2013 and the team stepped up to Comp Eliminator with a Pro Stock motor in the Daytona. Once again, Robin took one season to get to grips with the car and the class, and Pelle added another incentive. If they won Comp Eliminator in 2015, they would move up into Pro Stock in 2016.  The reality was that Robin finished second in the EDRS Comp Eliminator class in 2015, but the seed was set. Pelle contacted his friend Mats Jacobsson who was selling his 2006 Jerry Bickel built Pontiac GTO Pro Stock car, the deal was done, and Robin and the team moved on to Pro Stock.
They entered FIA Pro Stock rounds at Tierp only in 2016 and in his first event in June 2016 Robin qualified 6th and ran a creditable, though losing 6.85 against Thomas Lindström, the then reigning champion. Robin failed to qualify for race day at the second Tierp event, however in 2017 Robin embarked on the whole tour commencing with the Main Event at Santa Pod.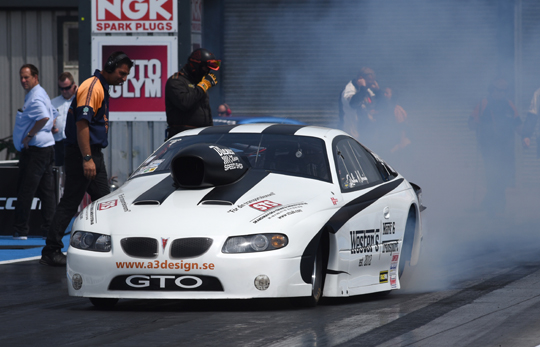 It was here that I first met the team. I had spent some time with the car before when Mats was racing it so we went to introduce ourselves. The welcome we received in the pit was warm and a friendship was formed almost instantly. The crew of Pelle Norén, Bo Jonsson, Micke Forsell, Johan Bergström have been together for years, Bo and Micke crewed for Pelle on the Super Gas car.
As with any new entrant to a class, there is a lot to learn, but the team acquitted themselves well in the 2017 season, finishing 7th in the championship. With the lessons of 2017 successfully learned, the 2018 season began with a new form of transport. The Pontiac being hauled around the circuit in Janne Palmqvist's Race rig, but the change to new transportation didn't alter the teams drive and determination, and the season began well with a runner up spot at Santa Pod in May.
This was followed by a first round exits at Tierp and Alastaro, but the team came back strongly to take the event win at Hockenheim. Back at Tierp things didn't go so well again as Robin came up against his old friend and rival Thomas Lindström, losing again in the first round. At Santa Pod for the finals there were only four cars present and Robin came up short against the hard charging Bengt Ljungdahl in the first round.
At the end of the season, Robin has finished in fourth position. If his history in competitive classes is anything to go by, the Pro Stock class had better watch out. This team and driver combination are coming for your crowns. I look forward to watching their progress in 2019.
Text: Ian Hart
Photos: Remco Scheelings