Thomas Olsen's dream season tastes moreish
With three race wins and only losing one elimination round out of four championship events, nobody deserved the EDRS Pro Nordic MC Pro Stock Motorcycle Championship better than Thomas Lysebraate Olsen. During the 2017 season many dreams came true for the 26 year old rider from Norway, as he not only won his first title, but he also won his first ever Pro Stock Motorcycle race and broke the 300 km/h barrier for the first time. "We know the competition will be tough, but we want to win the title once again in 2018," said Olsen, looking forward to the start of his new season.
When you were the number seven in the 2015 EDRS Pro Nordic MC Pro Stock Motorcycle Championship and stepped up to the number three position in 2016, you have your goals set for 2017. But the competition in Pro Stock Motorcycle was close and although Thomas Lysebraate Olsen made major steps during those seasons, he knew it would be tough to beat the top two. But last season the 26 year old Norwegian rider improved even more on his earlier performance and everything fell his way. Olsen defeated Timo Savolainen and Robert Karlsson to win the opening round at Tierp Arena, his first ever Pro Stock Motorcycle race win. At Alastaro, Olsen defeated Savolainen in the final, won again and repeated that at his home track Gardermoen. The last race of the season, the Dico Internationals at Tierp, was another landmark for Olsen as he broke the 300 km/h barrier, made several 7.1-second passes and secured his first EDRS Pro Nordic MC title. The semi-final marked his only elimination round loss in the 2017 EDRS Pro Nordic MC. Although Olsen recorded 7.109 seconds, he was defeated by multiple champion Fredrik Fredlund
"The first Tierp race in June was definitely our best race, as it was our first race win. But our most important race for winning the championship was Alastaro. After building a new engine the whole Saturday, we won the race on Sunday. That felt really good," said Olsen, looking back at last season. And it was a season to be proud of. "Of course I'm most proud of winning the EDRS title, but also the even gain in performance we had through the whole season, which gave us the confidence to run as hard as we did. And of course the first run over 300 km/h is a landmark in my racing career and it happened in 2017 as well."
It won't be a surprise that the young Norwegian rider will be back for a title defence in 2018. "We changed a few things over the winter, like a new crank, rods, pistons and cylinder. Hopefully we will have more spare parts in the trailer going into the season. We are optimistic about the 2018 season. We want to improve performance in all areas: rider performance, the bike's performance and the crew's performance. Our goal is to give our competitors a run for the money, putting on a good show for the audience and our fans. Being a title defender, we hope to retain the title for 2018. Performance wise we expect 7.1-second runs at over 305 km/h. One of our crewmembers, Peter Petterson, will only join us for the races in Norway. We haven't decided on a replacement for him yet. Except for that, it will be the same gang," said Olsen, who will have Pay Back Lubricants Norway as his main partner for the third consecutive year.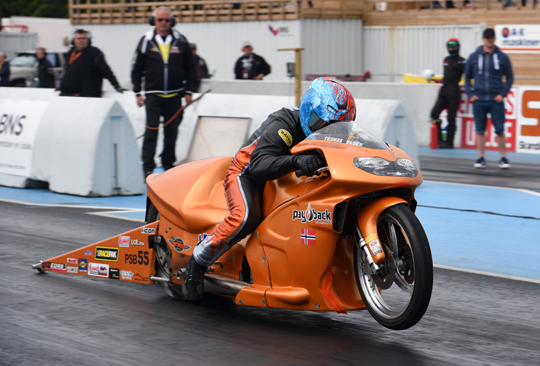 Who will be Olsen's main rivals this season? "Kalle Lyrén and Robert 'Robban' Karlsson are for sure the hardest rivals, since they both run so strong. But there could pop up some surprises! We will know after the first race at Tierp."