EDRS Pro Nordic MC kicks off in high gear with Tierp and Alastaro
With two races separated by only one weekend off, the EDRS Pro Nordic Motorcycle Championship kicks off in high gear. The Tierp Internationals at Tierp Arena is once again the first meeting of the season, and after a one weekend break, the EDRS Pro Nordic MC teams will immediately meet again for round number two, the FHRA Nitro Nationals at Alastaro. The championship counts six different categories and will be decided in four races. The Tierp Internationals will be a first indication to see who are the favourites. Kalle Lyrén (Pro Stock Motorcycle), Samu Kemppainen (Super Twin Motorcycle), Thomas Pettersson (Top Fuel Motorcycle), Henri Kolehmainen (Super Street Bike) and Bianca Nilsson (Super Comp Bike) will all defend their 2016 titles, but will meet tough competition. A new champion will be crowned in Super Gas Bike after Janne Koskinen stepped up to Pro Stock Motorcycle this winter.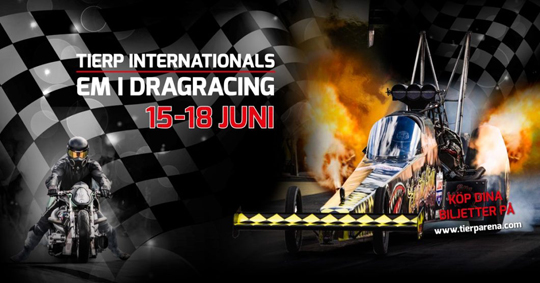 After the kick off with the Tierp Internationals at the state-of-the-art Tierp Arena facility, the teams almost immediately have to travel to the friendly Alastaro Circuit, the dragstrip situated in the middle of the Finnish forests.
The new Gardermoen Raceway in Norway is host to round number three and for their finals, the riders will go back to Tierp Arena for the Scandinavian Internationals, the fourth and last race of the EDRS Pro Nordic Motorcycle Championship. Super Comp Bike and Super Gas Bike were added to the EDRS Pro Nordic Motorcycle Championship last year and are in the series again this season. Together with Pro Stock Motorcycle, Super Twin Motorcycle, Top Fuel Motorcycle and Super Street Bike, that brings the number of categories in the most prestigious Scandinavian motorcycle drag racing championship up to six.
Pro Stock Motorcycle
There are seven entrants from four different countries at the start of the season in EDRS Pro Nordic MC Pro Stock Motorcycle. After his dominant performance last year, reigning EDRS Pro Nordic MC champion Kalle Lyrén is once again the clear favourite. The Lyrén Motorsport rider will again fly the flag for Veidec and Parts Europe, but in a new great looking livery and with a new truck trailer combination as their home base in the pits. After a one year break, the 2015 EDRS Pro Nordic MC PSM champion Robert Karlsson is back for another championship assault and the quick Swede is always a force to be reckoned with. Kenneth Holmberg will try to forget last season and will be hoping for less bad luck this year. His first race at Santa Pod a few weeks ago looked promising, although the Swecomposite rider was once again hit by engine problems.
Timo Savolainen was last year's number two and will try to beat Lyrén for that number one plate.
From Norway comes Thomas Lysebraaten Olsen, the number three from 2016. The young racer made some major progress in the last two seasons and is now looking for more.
After a season in EDRS Pro Nordic MC Super Street Bike, Alex Hope will be back, but now in Pro Stock Motorcycle, leaving the SSB duties to his brother Mark. Hope made many runs in England over the recent two months, was struggling with his new chassis but after stepped back to his 'old' Pro Stock Motorcycle, he made major progress at The Main Event. The Hope Racing rider might be one of the major challengers for this year's top three. Last but not least, Fredrik Kempe is back and one of the major goals for the Swede will be to reset his personal bests.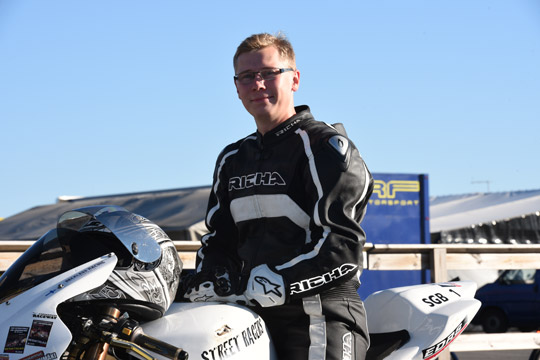 At Alastaro Janne Koskinen might make his Pro Stock Motorcycle debut. The EDRS Pro Nordic MC Super Gas Bike champion bought one of Robert Karlsson's bikes (ex Ellsa Karlsson) and will try to gain experience in this challenging category.
Super Twin Motorcycle
With no fewer than 16 entrants, Super Twin Motorcycle has a healthy entry at the Tierp Internationals. With seven riders from Finland, the country of reigning EDRS Pro Nordic MC champion Samu Kemppainen takes over the leading role from Norway, that has four representatives at Tierp. Three riders come from Sweden, one from the Czech Republic and one all the way from the USA.
Tommy Grimes Jr. made his European debut last season and will be back for a full EDRS Pro Nordic MC tour on Per Bengtsson's bike, "The Beast". Roman Sixta from the Czech Republic was a regular EDRS Pro Nordic MC visitor last season, is back for more and showed great form at Santa Pod a few weeks ago. Last year's number three, Greger Johansson, is accompanied by his countrymen Anders Hörnström and Ulf Ledström.
Vidar Ravnsborg was last year's number four and together with Trond Jostein Høiberget, Erling Opheim and Svein Olaf Rolfstad, he will defend the Norwegian colours. Kemppainen is accompanied in Sweden by some well-known but also some less familiar names like Ismo Mäenpää, Teemu and Torsti Kettula, Lasse Leponiemi and Petri Mattsson. Special attention will go out to Jaska Salakari, definitely  the most colourful and one of the most spectacular Super Twin racers in Europe.
Not all Tierp entrants will also travel to Alastaro, but in Finland we will see the EDRS Pro Nordic MC Super Twin Motorcycle debut of Kristin Hegre, while Vesa Lipponen will join the championship tour in his home country as well. So far 13 combinations are entered for the Finnish round of the championship. Last year's runner-up, Hans Olav Olstad, will skip this season due to health related issues at home. Riders and fans hope to see the Norwegian racer back as soon as possible.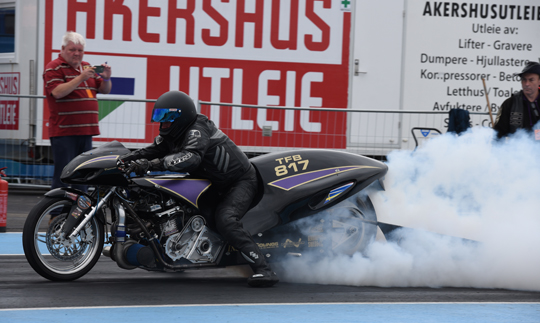 Top Fuel Motorcycle
Top Fuel Motorcycle has seven entrants at the Tierp Internationals. The reigning champion is Thomas Pettersson, but the Swedish Funny Bike rider will meet tough competition from the extremely powerful Top Fuel Motorcycles of Jan Sturla Hegre, Sverre Dahl and number one favourite Rikard Gustafsson.
All the way from England comes Shaun Branch, but like the two Peter Anderssons, Branch will have to score with consistency and reliability.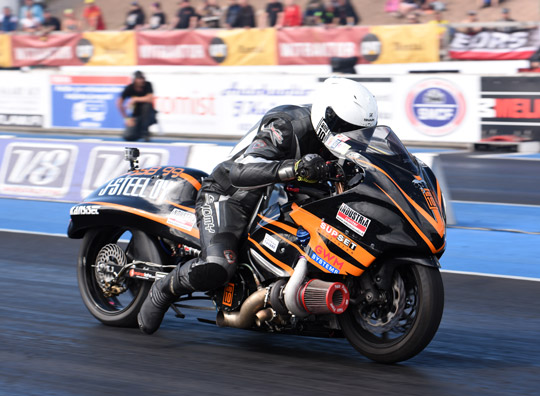 Super Street Bike
Super Street Bike will for sure be spectacular again, and with well-known riders with new bikes, most of last year's frontrunners back in action again, and with some riders who travelled to Santa Pod Raceway to sort out their machines, it's impossible to mention one clear favourite. Reigning EDRS Pro Nordic MC SSB champion Henri Kolehmainen from Finland will defend his title, but will meet tough competition from 2015 champion Björn Friström, the riders who impressed at Santa Pod, Anders Blanck, Mathias Bohlin (ex-Alex Hope bike), Roberth Häggblom, Robert Nilsson and off course Mogens Lund from Denmark.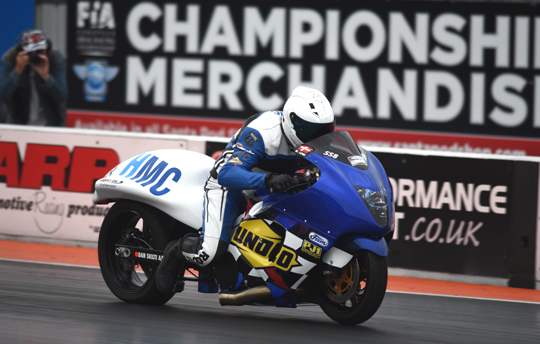 Mark Hope will take over the SSB duties now that his brother Alex is in Pro Stock Motorcycle. Kim Hilander, Pelle Lakmaker, Vesa Ruhanen, Dag Wagenius, Emil Östlund and sophomore SSB rider Ida  Johansson are all more or less experienced riders in this category and can all surprise. Ida Zetterström and Björn Linde are new names in the championship this season and it will be interesting to see what they can do.
As in the other classes, not all Super Street Bike riders will go to Alastaro, but the main title contenders will be in Finland, so that will make the race interesting and exciting anyway.
Super Comp Bike and Super Gas Bike
For the second consecutive year Super Comp Bike and Super Gas Bike are part of the EDRS Pro Nordic Motorcycle Championship. In Super Comp Bike there are 13 entrants at Tierp Arena where Bianca Nilsson will start her title defence. Tomas Jonsson, Kimmo Rantala, the popular Kathrine Wagenius and Emil Östlund were the numbers two, three, four and five in last year's championship and are all back for more this season. But it's also good to see some new names in this 8.5-second index class. At Alastaro some Finnish riders will enter the class.
With last year's runner-up Magnus Pollack and Iiro Reinola, Super Gas Bike has only two entrants in Sweden, while three Finnish riders will try to win the 9.5-second category in their home country.
Link to the Tierp Internationals entry list: http://www.dragracing.eu/event_details.asp?c=y&id=357
Link to the FHRA Nitro Nationals entry list: http://www.dragracing.eu/event_details.asp?c=y&id=337