Grönman upgrading to Cobra Jet in S/SS at Tierp Arena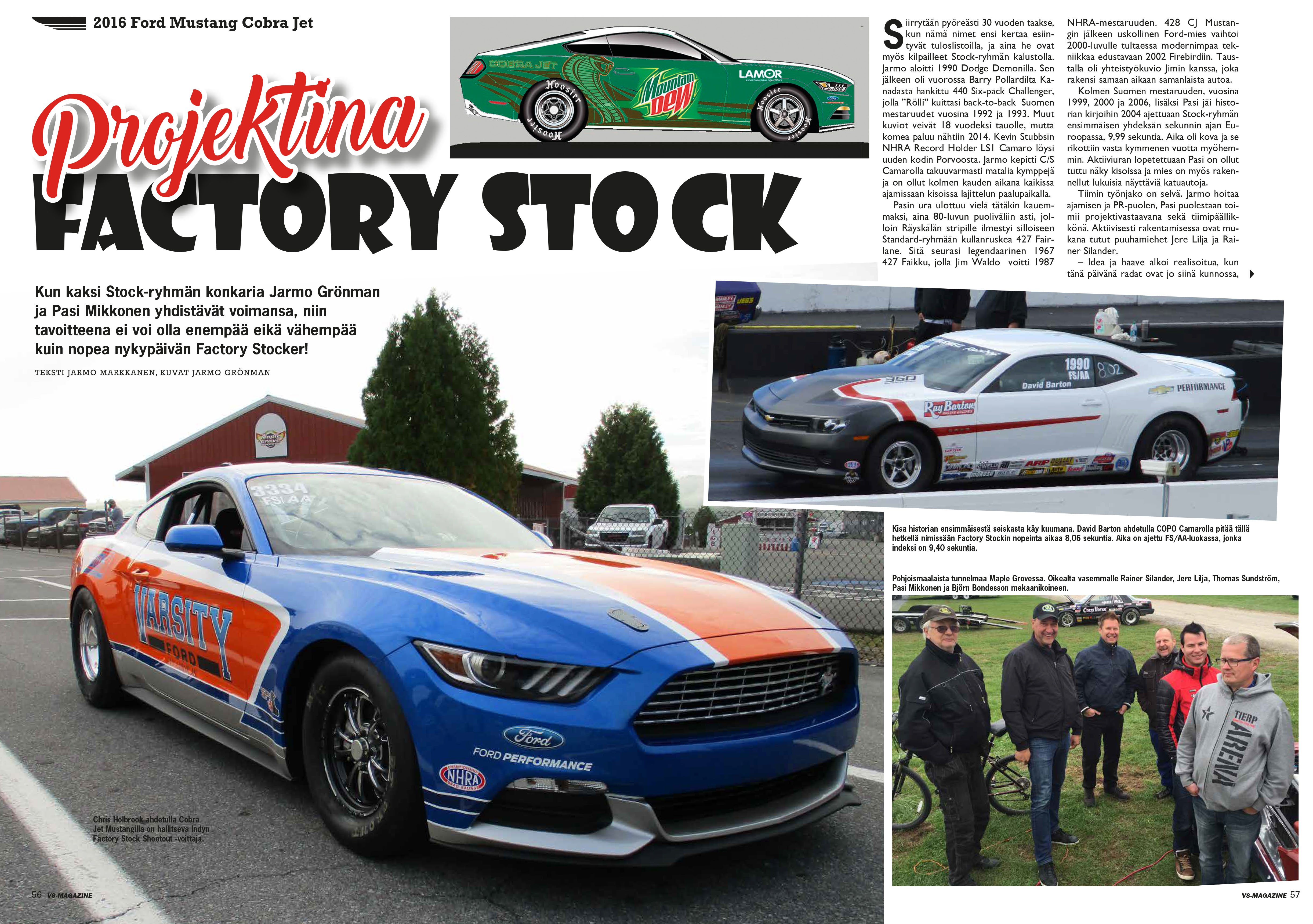 Big things are happening in Jarmo Grönman´s garage! A new ride is about to come alive for this season. And it isn´t just any car, it´s a 2016 Mustang Cobra Jet Factory Stock B. V8-Magazine has the whole story about the project.
Jarmo from the Porvoo archipelago in Finland, is well known at the racetracks with his green Mountain Dew Stock/Super Stock Camaro. A car he has brought to the top level in both the EDRS Series and the Finnish Championships. 2015 he Runner Up in the series and last year he ended up on the fourth spot. For the upcoming season, he is heading for a win in, what we presume, a 2016 Mustang Cobra Jet Factory Stock B.
-It´s a Tami Brander- rebuilt car on a 2016 Mustang Cobra Jet Factory Stocker chassis, Jarmo says. We got the car in October, bought from US as a flooded salvage car. V8 Magazine is following the project that could be seen on the tracks this summer. The engine is a former Bo Butner 429 Ninja engine and the gearbox a Liberty 5 speed.
Now Jarmo and team is working hard to get this beautiful Cobra Jet race ready for the season. The Mustang project also involves Pasi Mikkonen as their crew chief. Pasi has been racing more than 20 years in Ford-teams and still got his -67 A/S Fairlane, an ex-Jim Waldos race-car.
How come you choose the Mustang?
-Pasi´s blood is Ford- blue, Jarmo says. He has got the right connections to Ford Racing and is able to get valuable information from them. Also, the Mustang has new body design that looks cool!  We are really trying hard to get the car ready before first Tierp event 16-18th June. Now we only have to finish the paint job, do the wiring, suspension set up and you name it! Then we have to make a couple of shakedown" runs before first official event. We´ll see what happens.

Jarmo have been involved in drag racing for a long time. 1992 – 1993 he was the Finnish Champion in a B/SA Dodge Challenger six-pack. Then the family life took over for a while and the focus switched to street cars, Hot Rods and fast boats instead. But in 2014 the drag racing needs became too strong and he bought the C/S Chevrolet Camaro LS1 he has been driving a couple of years since then. Things went very well so he decided to step it up a bit to the 2017 season.
If someone wants a rare race car, the Camaro is for sale after the Tierp event. The world´s fastest C/S car: 10.09/212 km/h = 1.26 sec below index!
Mustang Cobra Jet getting some paint. White base, then we expect the Mountain Dew colors of course.
Fact Mustang Cobra Jet:
Vehicle Manufacture: Ford
Chassi: 2016 Mustang Cobra Jet Factory Stock B
Engin type: 429 Ninja by Chris Holbrook/Joe Hornick Enterprises (ex. Bo Butner)
Charger: No charger. We have naturally aspirated engine
Fuel system: Holley ECU
Effect: Enough
Gearbox: Liberty 5 speed
Wheels and tires:  Weid Racing/Hoosier
Jarmo Grönman
Age:53
Born: Helsinki, FI
Today´s resident: Porvoo
Family: wife Mikaela
Children: Wille 14, Felix 11 and Amos 7
Other interests: Life in the Porvoo archipelago, my Harley, Hot Rods, Power Boats.
Photo: Privat Jarmo Grönman