Lucas Oil step up their partnership with Stig Neergaard Racing
Lucas Oil will have a prominent place on both sides of Stig Neergaard's Top Fuel operation in 2017. The well-known American oil company that support so many drag racers worldwide, are increasing their involvement with the Danish team and will be Stig Neergaard Racing's major partner in the 2017 FIA European Top Fuel Championship title race.
The name Lucas Oil has already been visible on the Stig Neergaard Racing Top  Fuel dragster for quite a while, but the attentive viewer who saw some pictures of Stig Neergaard's Top Fueler from the 2017 Danish Motor Award & Motorshow earlier this year, must have noticed the prominent place Lucas Oil and their logo had in the 2017 design.
"We have signed a partnership deal with Lucas Oil USA. They provide us with products for our racing team and grandstand rental shop as well. And Lucas USA give us the opportunity to start our Lucas Oil business in Denmark. All racing products will come from the USA and all retail from the UK. We want to open a shop for the sale of all Lucas Oil products and we will take a small batch of products with us to all FIA events. Special products can be delivered to the track," said Neergaard about the partnership with Lucas Oil.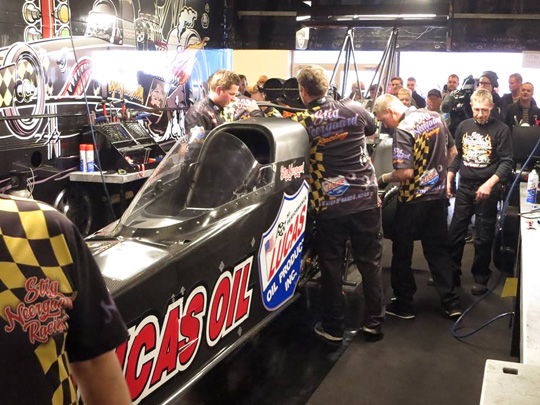 Neergaard will once again do the full FIA European Top Fuel Championship tour and after a runner-up position in 2016, the Dane will do everything he can to win the title this year. Stig Neergaard Racing will also be at their home event in Mosten and will promote Lucas Oil at shows and exhibitions.