Final EDRS event – Mosten
The last race out for EDRS this year was Mosten Race Day, nearby Alingåbro at Jylland , Denmark. And King of Mosten 2016 is Richard Gustafsson!!
This is a really special event, in many aspects. Sprint race in the middle of cultivated fields on a very well prepared track. Just 50 meters behind the starting line is a hug area with sales-stalls, bars and party tents. And you are always close to your home, which mostly is a tent in the forest or out on the field. This year almost all races in the EDRS-series has been affected by rain and so was Mosten Raceday. On both Friday and Saturday, but finally, all race was completed.
Well, how do we do the point calculation when it comes to sprint racing then? Top 8 receives the 50 points first round looser points, the others 20 + the qualification points 1-16 spot. The four fastest in the first round receives another 20 p and so on until the final is run, with winner and runner-up-points.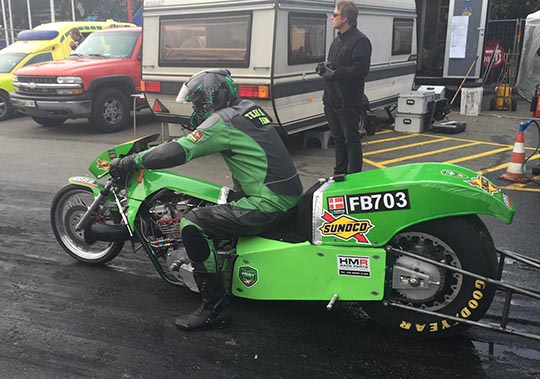 By that Mikkel Nielsen (DK) took the win in EDRS Super Gas Bike, Division Central, due to his runner-up place behind the event winner Christian Jacobsen (DK). In Super Comp Bike, nothing in Top-ten was affected of the Mosten Raceday event.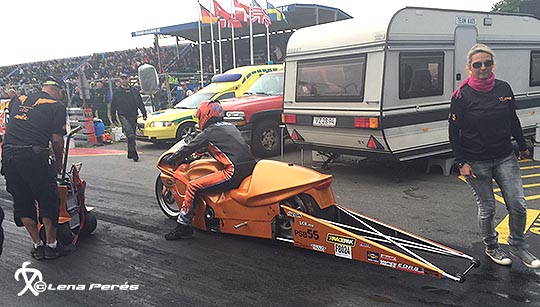 Event winner was Hans Henrik Thomsen (DK) and RU was Per Möller-Olsen (DK). In Funny Bike also Pro Stock Bikes and Super Street Bikes were included. Since there have not been any races this year in EDRS for Funny Bike, this was also a shoot-out for the series. Winner in both was Thomas Olsen (N) and Sven Fagan (DK) became runner-up.
King of Mosten (fastest in the event) was, as last year, Richard Gustafsson (S). This year on his new Top Fuel Bike, running 4,01 / 288,77 on the eighth. So, this is a very good track and also very popular. Don´t miss it next year!

Mikkel Jensen has been touring this summer, racing in both Norway and Sweden. That resulted in a win of the Super Gas Bike, Division Central in EDRS 2016. Runner-up at Mosten Raceday.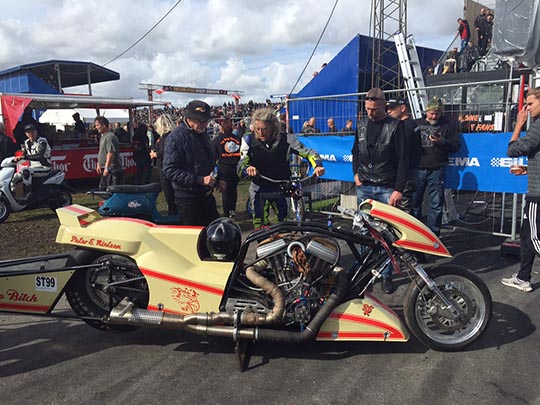 We have earlier seen Jesse "James" Bohn driving choppers on the strip with really long forks. Now he´s stepping up to the Nitro class.
Hans Henrik Thomsen won Super Comp Bike with his all- electric bike
Summery and Photo: Carl Erik Kihlman