Rain disturbs Drag Challenge Grand Opening at great new Gardermoen Raceway
Mother Nature is not always as cooperative as you would like when you have something to celebrate. Rain played far too important a role in the opening of the new Gardermoen Raceway. Not only was the official part of the ceremony disturbed by rain, but also round three of the EDRS Pro Nordic Motorcycle Championship was cut short to one qualifying round on Friday and one on Saturday before rain also brought an early end to eliminations after only one round was completed. 
Gardermoen Raceway was host to round three of the 2016 EDRS Pro Nordic Motorcycle Championship. It was a very special race weekend for Norsk Drag Racing Gardermoen as it was the first race at the completely renewed Gardermoen Raceway. The NDRG and all their volunteers did an outstanding job as the new dragstrip looked great and impressive elapsed times were recorded. It looks like Gardermoen Raceway will be a record setting track in the near future again.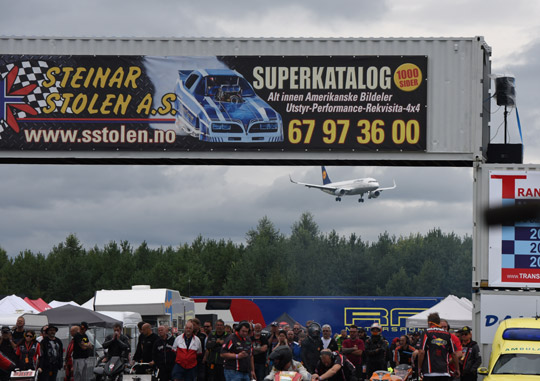 But you don't always get what you deserve and one thing is for sure, the NDRG deserved so much better weather then they got at the Drag Challenge Grand Opening. Friday qualifying was badly affected by the rain and so the EDRS Pro Nordic Motorcycle Championship qualifying was cut short to one round at 7 PM. Thanks to an early start, most EDRS Pro Nordic MC classes could complete one qualifying run on Saturday too, before the heavy rain came back at 12 AM and didn't stop until 5 PM.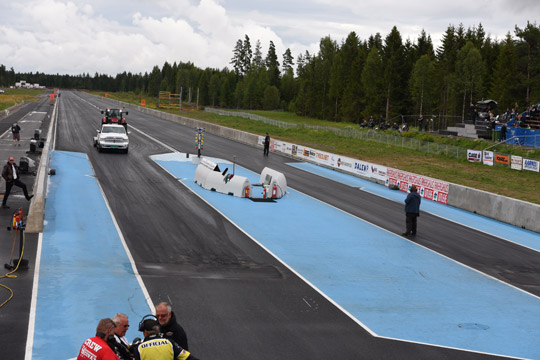 On race day it was not much better, as after some drizzle during the day had interrupted eliminations, heavier rain was back at 4 PM. With one elimination round of the EDRS Pro Nordic MC completed, the race director had to cancel the event, as with the forecast of more rain to come, there was no point in delaying the eliminations any further.
Super Twin Motorcycle
Qualifying
As he was at Alastaro, Vesa Lipponen was the leader after the first day of qualifying at Gardermoen in Super Twin Motorcycle. The Finn impressed with a great 6.85 seconds and was followed by the two Norwegian riders Hans Olav Olstad (7.13 seconds) and Vidar Ravnsborg (7.65 seconds). Reigning champion Samu Kemppainen was disqualified on Friday for crossing the centre line. But on Saturday, Kemppainen bounced back and stormed into the number one position with a great 6.61 seconds.
Lipponen couldn't improve on his Friday performance and dropped into second position. Olstad was the third rider to break into the 6-second zone with 6.93 seconds and was third. Ravnsborg, Erling Opheim, Marcus Christiansen, Svein Olaf Rolfstad and Greger Johansson completed the 8-bike elimination ladder. Surprise non qualifiers were Harri Piensalmi, the number three qualifier at Alastaro, and Ismo Mäenpää, who hit the wall in his Friday qualifying run. Ulf Nylen, Aku Lantto and Trond Jostein Höiberget were the other riders who didn't make the field.
Eliminations
Quarter finals
With Kemppainen in the number one and Johansson in the number eight qualifying position, the numbers one and two in the championship had to face each other in the first round. Kemppainen stormed to 6.81 seconds and advanced to the semi-finals, also extending his lead in the points standings after three races. As Ravnsborg defeated Opheim, and Lipponen and Olstad did the same to Rolfstad and Christiansen, the top four qualifiers all advanced to the semi-finals.
Championship
Kemppainen extended his lead in the EDRS Pro Nordic Super Twin Motorcycle Championship with 27 points to 64 points. Johansson is still in second position, but Ravnsborg is now only three points short of the Swede in third. Olstad is fourth.
Pro Stock Motorcycle
Qualifying
It seems like it doesn't matter to Kalle Lyrén where he races this season. The Veidec Lyrén Motorsports rider is quick and fast everywhere. The championship leader started with 7.14 seconds and improved to 7.09 seconds on his second run. Timo Savolainen was in second position with 7.26 seconds and Thomas Lysebraate Olsen third with 7.54 from Friday qualifying.
Kenneth Holmberg was fourth but had to withdraw from competition as the Swecomposite rider suffered severe engine damage in his Friday run. Fredrik Kempe and Bo Thorselius ended qualifying in fifth and sixth position.
Eliminations
Quarter finals
Lyrén impressed once again in eliminations as he stormed to a stunning 7.049 seconds at 308.52 km/h in his first round win against Thorselius. As Kempe had problems at the start line, Savolainen had a bye run into the semi-finals as did Olsen who should have faced Holmberg.
Championship
Lyrén is leading the EDRS Pro Nordic Pro Stock Motorcycle Championship with 215 points. Olsen is second with 167 points and Savolainen third, only six points short of the number two position.
Top Fuel Motorcycle
Qualifying
EDRS Top Fuel Motorcycle Championship leader Rikard Gustafsson stormed to a great 6.17 seconds on the Friday, good enough to claim the number one position after two runs. Per Wärn was in second position and Sverre Dahl third.
Jan Sturla Hegre was disqualified after round one for crossing the centre line, but bounced back on the Saturday with 7.07 seconds to jump into the number two qualifying position. Thomas Pettersson was also a non-qualifier after round one, but improved on Saturday and ended qualifying in third position. Dahl couldn't improve on his Friday performance and dropped to fourth, with Wärn (after they took away his Friday elapsed time) in fifth and Shaun Branch in sixth position.
Eliminations
Quarter finals
Number one qualifier Gustafsson had to withdraw from eliminations with crankshaft problems and so Branch had a bye run into the semi-finals. Hegre had some problems in his first round against Wärn, but the 7.38 seconds was enough to advance to the semi-finals. Dahl improved to 6.62 seconds and defeated Pettersson.
Championship
Gustafsson is leading the EDRS Pro Nordic Top Fuel Motorcycle Championship with 174 points. Pettersson is in second position with 140 points and Hegre is third with 104 points.
Super Street Bike
Qualifying
Championship leader Henri Kolehmainen, from Finland once again impressed with 7.42 and 7.40 seconds to claim the number one qualifying position after two runs. Anders Blanck stormed to 7.56 seconds on the Friday, and although he couldn't improve that elapsed time on the Saturday, it was enough to stay in second position.
Vesa Ruhanen was the second Finn in the top three with 7.58 seconds and Emil Östlund ended qualifying in fourth position. Favourite Alex Hope had some traction problems on the Friday, but improved to 7.81 seconds on his second run, to jump into the number five qualifying position. The UK rider's elapsed times were still far from what he was used to.
In their first race of the EDRS Pro Nordic MC season Svein Ove Braendhagen and Dag Wagenius, both from Norway, were in sixth and tenth position. There were some problems in qualifying for Mogens Lund and Björn Friström, and so the Dane was only eleventh and the reigning champion thirteenth and last qualifier. Even worse were the problems experienced by Ida Johansson and Leif Larsson. Johansson made it to the start line twice, but couldn't complete a run, and Larsson suffered engine damage in the Wednesday test run and had to withdraw from competition.
Eliminations
Round one
With at least three major upsets, not all top eight qualifiers had the first round they had dreamed of. The number four qualifier, Östlund, was defeated by Lund, but even bigger surprises were Wagenius who defeated Hope, and Friström who defeated number two qualifier Blanck. The other first round winners in the 16-bike field were Pelle Lakmaker, Ruhanen, Braendhagen and number one qualifier Kolehmainen. The championship leader impressed with a great 7.29 seconds in his first round bye run.
Championship
Kolehmainen extended his lead in the EDRS Pro Nordic MC Super Street Bike Championship to 58 points. Lund is the new number two in the championship, with Richard Stubbins, who had to skip the Gardermoen event, in third position. Blanck remained in fourth position, six points short of Stubbins and nine points ahead of Ruhanen.
Super Comp Bike
Qualifying
As he was in Alastaro, Emil Östlund was also the number one qualifier at Gardermoen. Tomas Jonsson was second and Kjell Aagnes third. Championship leader Bianca Nilsson once again impressed with a fourth qualifying position in the 16-bike field.
Östlund, Jonsson and Nilsson won their first round and together with Peter Östlund, Asle Malvik, Kimmo Rantala, Peter Svensson and Kasper Halvorsrud Hansen they advanced to the quarter finals. In the championship Bianca Nilsson leads with Jonsson forty points behind in second position. Rantala is the new number three.
Super Gas Bike
Tore Hanzal was the number one qualifier in the 12-bike Super Gas Bike field after two runs, with championship leader Janne Koskinen in second and Öyvind Teigen in third position. All three won their first round and the same was true for Einar Stenholm, Camilla Skaalvik Torgersen and Mikkel Jensen. Koskinen is the clear leader in the championship with 153 points. Hanzal is second with 58 point and Magnus Pollack is in third position.
The fourth and final round of the EDRS Pro Nordic Motorcycle Championship will be at Tierp Arena, Sweden, August 25-28.
Drag Challenge Grand Opening statistics
Top Fuel Motorcycle
Low ET: Rikard Gustafsson, 6.177 seconds
Top Speed: Rikard Gustafsson, 329.64 km/h
Super Twin Motorcycle
Low ET: Samu Kemppainen, 6.610 seconds
Top Speed: Samu Kemppainen, 345,15 km/h
Pro Stock Motorcycle
Low ET: Kalle Lyrén, 7.049 seconds
Top Speed: Kalle Lyrén, 308.52 km/h
Super Street Bike
Low ET: Henri Kolehmainen, 7.291 seconds
Top Speed: Henri Kolehmainen, 320.11 km/h
Results
For the qualifying lists and elimination ladders see:
http://ndrg.no/resultater-drag-challenge-4-7-aug-2016/
For the championship points standings after the Drag Challenge see:
https://www.dragracingeurope.eu/edrspro/points-standings-2016/
For more pictures see:
www.edrspro.com, photo galleries
Text: Remco Scheelings
Photos: Remco Scheelings, Patrik Jacobsson