A warm, fast and sunny raceweeken at Tallhed Raceway
The most startling at the midsummer race in Orsa was Villiam Svensson's dial-in time. He has just started to compete in the Junior Dragster class. He took the No. 1 qualifying spot on Saturday with the reaction time 0.0002 sec.
A fantastic sunny midsummer on Tallhed Dragway. 149 participating teams showed up on this historic course well known outside Orsa in Dalarna, to celebrate Midsummer and combine it with what we all love most, drag racing. Closest to that was Fanny Olsson in 0.0037 seconds. Unfortunately redlighted William in the first round against Victor Heleander.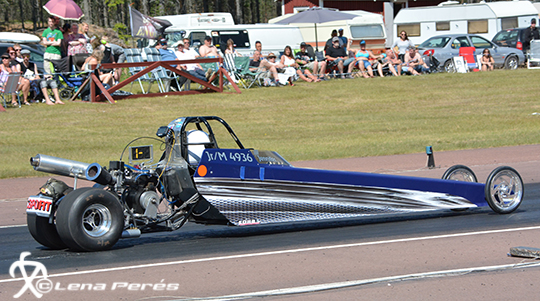 Winner of the class was Jennifer Östergren. And because Yasmine Bengtsson was on site, there was some F.U.N.N. activities in the evening for all the younger drivers. The training part was to put out a burning doll. And even the youngest of participants Emelie Svensson 8 years old, did it with bravura.
-Now I can teach my grandmother how to do this, she said right afterward.
Two teams, one for parents and one for the youngsters, had some fun in the game parts later.
Next weekend it is Sundsvall's turn to host the F.U.N.N. project.
Some of the winners:
Leif Våghals winner in Super Gas Bike.
Johan Källberg Q1 and winner inPro Street.
Patrick Wickman winner in Super Gas.
SSB winner Ida Johansson.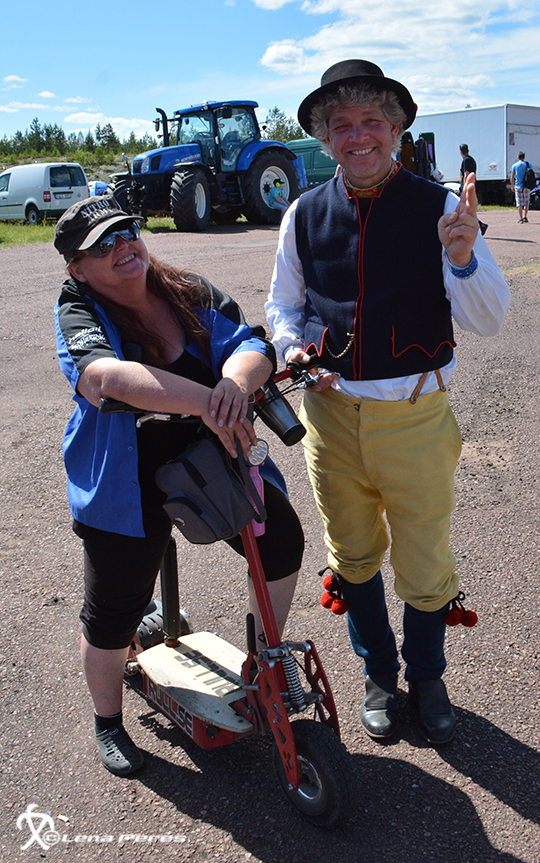 And of course there was a real Mas in the national costume, as it should be on a Midsummer day. Here together with Sanne Karlsson.
Classes:                                       Q1                                                Win                                                       
Jr Dragster:                                    William Svensson                        Jennifer Östergren
Pro ET:                                            Patrik Söderberg                          Janne Lithell
Super Pro ET:                                Göran Gustafsson                        Leif Magnil
Super Gas:                                      Helena Olsson                              Patrick Wickman
Super Street:                                  Åke Törnqvist                               Ulf Axelsson
Pro Street:                                      Johan Källberg                             Johan Källberg
Super Pro Street:                          Anders Edh                                   Anders Edh
Jr Bike:                                            Linus Tröjbom-Berggren           Linus Tröjbom-Berggren
Super Comp Bike:                         Anders Gerdtsson                        Rasmus Östund
Super Gas Bike:                             Leif Våghals                                  Leif Våghals
Super Street Bike:                         Ida Johansson                              Ida Johansson
Results: http://dragracing.eu/results.asp?id=1&year=2016