Harland Sharp roller rocker arms in 2016 Speedgroup Contingency Program

"Here at Harland Sharp we have been discussing ways to help expand our presence into the European market. When we received an email about the EDRS program, we did some research and it seemed like a perfect fit. In the past, contingency programs have worked out well for us here in the US. We have participated in NMRA/NMCA, IHRA and NHRA in previous race seasons. For the 2016 season we are doing contingency programs with the NHRA and Speedgroup EDRS!", said Steve Becker.
"Through the Speedgroup EDRS program, we hope to help bring the Harland Sharp name and brand to the European market. We currently have a small presence there but hope to show the racers that our rockers can withstand the test of time, as well as hard passes on the race track! With this program, we want to show that American companies do support the racing industry worldwide. We feel that EDRS is a great was to help us showcase this", said Steve Becker about the reason for Harland Sharp to join the 2016 Speedgroup contingency program.
In 1960, Harland Sharp, the founding father of modern day valvetrain technology brought forth a new innovative idea that would forever change the racing industry. With a vision to reduce friction, yet increase horsepower, the birth of the Harland Sharp roller tip rocker arm was born. Opening up shop in the back of his Parma Heights Ohio garage, Harland began production in the late 1950's. Working alone to fulfill the orders, Harland knew he was going to need to expand in order to take his new business venture to the next level. In February of 1960, Harland Sharp moved the newly founded business, Custom Speed Parts Manufacturing to Strongsville Ohio, where they are still currently located 56 years later!
Throughout the 1960's and 70's Harland continued to perfect his roller tip rocker arm design. Introducing new beefier bodies and stronger materials to the mix, Harland Sharp's business continued to grow. Having no children of his own, Harland's nephew Randy, was always by his side learning the tricks of the trade. After initiating new production and development ideas to the manufacturing process, Randy was placed in a position of day-to-day management after the untimely death of Harland's wife Mae. As the business grew and new challenges arose, Harland knew that Randy would continue to develop and provide the racing industry with the finest American made roller rocker arms. In 1988, the company's founding father Harland Sharp passed away.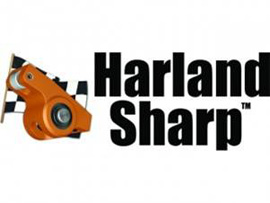 "As Randy stepped up to further the businesses reach, he introduced the lifetime guarantee in the early 1990's. Investing in new CNC machines and equipment allowed Randy to streamline the manufacturing process to a new higher level. With the processes updated, production exploded throughout the 90's and into the 2000's, when Randy's children would begin to take on more responsibilities. In 2000, we decided to upgrade our facilities and move to another location in Strongsville Ohio, expanding from a 5000sq.ft building to 30,000+ sq. feet. Since our move 16 years ago, our production capabilities and machining operations have nearly doubled, allowing us to further grow. Since 2000, we have expanded into shaft rocker arms, highly customized rocker arm applications, as well as into the diesel market", said Steve about the recent history of Harland Sharp.
"Throughout our 56+ years of business in the high performance aftermarket world, Harland Sharp has always hand assembled and inspected their parts before shipping, a process that is still meticulously done to this day! We pride ourselves on being the best, not the largest parts supplier", said Steve. As Harland Sharp continues into the 21st century, it is with a renewed sense of self-determination that drives Randy's sons to carry the legacy of their great uncle Harland on. Having grown up in the business much like their father, Randy Jr, Mike and Steve are now the driving force behind growth and day-to-day operations, and of course Mom and Dad's watchful eyes are never too far away though!
Harland Sharp EDRS Contingency Program
Products: Roller Rocker Arms
Harland Sharp awards winners with $200 and runners-up with $100 in the Car classes
EDRS: All Car classes except Jr Dragster – applicable at the 5 events stated under EDRS below.
FIA Championship – All classes
Conditions: Decals well visible on both sides of the race car
Use of products: Proof of purchase to be presented when making claims
Claims handled via Harland Sharp
Form of payout: gift certificate
EDRS Contingency program events*
June 16-19 Tierp Arena, Sweden
July 1-3 Sundsvall, Sweden
July 7-10 Alastaro, Finland
August 5-7 Gardermoen, Norway
August 25-28 Tierp Arena, Sweden
* please note, all classes do not run at all events.