Gators for Kalle Lyrén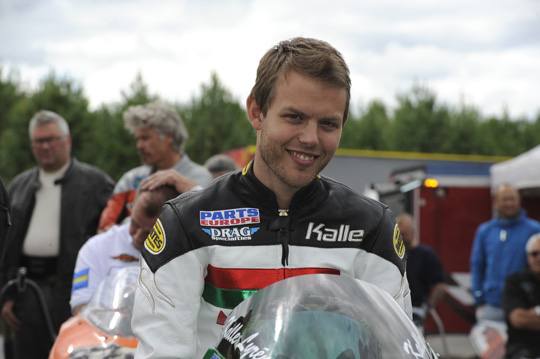 Kalle Lyrén will kick off his 2016 season where he left off in 2015: in the United States! The 2014 EDRS Pro Nordic Pro Stock Motorcycle champion will compete in the NHRA Gatornationals at Gainesville Raceway in Florida, the season's first of 16 races for Pro Stock Motorcycle in the NHRA Mello Yello Drag Racing Series. The American dream part two! 
Last year Kalle Lyrén saw a dream come true in racing at Las Vegas and Pomona, the last two rounds of the NHRA Mello Yello Drag Racing Series. Although the 2014 EDRS Pro Nordic MC champion did not qualify, he came close at Pomona, and made his American debut a great success by recording 6.98 seconds, his first ever 6-second pass, and resetting his personal best top speed! Now it's time for more.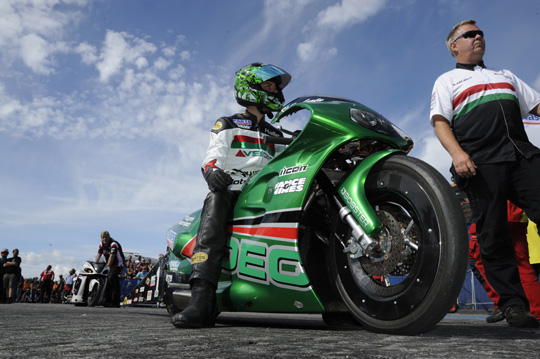 The Amalie Motor Oil NHRA Gatornationals (March 17th – 20th) at the famous Gainesville Raceway, is one of the sport's most revered events, and the season's first of 16 races for Pro Stock Motorcycle in the NHRA Mello Yello Drag Racing Series. With 24 entries, the Pro Stock Motorcycle field is very competitive again and qualifying for eliminations will be tough.
"It's almost time again for the racing season! It's crazy how fast things are going. The off season was very short this time, compared to what we are used to in Europe and Sweden. Since we left our bike and all stuff in the U.S.A. over the winter, we decided to do at least one race and do some testing before taking the bike back home for the EDRS Pro Nordic Motorcycle Championship. We will do some testing for two days in Valdosta, the week before the Gatornationals, and hopefully get some good base tuning. It's also good to get a little bit of seat time before the race in Gainesville. Since we have had so much work with our business, I haven't had much time during the winter to think about the racing. Maybe that can be good in some way, but in the other hand I feel that I'm not so well prepared for getting on the bike in just two weeks. But it is always the same feeling every start of the season, and it doesn't take so many rounds to get back to how it works", said Kalle Lyrén, still very busy getting everything ready for the U.S.A. trip.
"Since we had some issues with both our engines on our trip last year, we needed to fresh up both of them. Since one of the engines was in really bad shape, we decided to update it to bigger CC in the same time. So now we should have two fresh engines and I think we have a good base to stand on when it comes to getting the bike down the track. I know it will take some rounds to get used to racing again, but often it goes quite fast to feel comfortable again."
Kalle will have his family with him. "Yes, like last year. I'm very proud to have the opportunity to have my wife and daughter with me at the race and trip. Since it has been a lot of work for us during the winter to get funding and to have the possibility to be away from work during this time of year, we also decided to have a week of vacation with the family in Florida after the race."
"We are really looking forward to start the season early and to get as much tuning information as we could, so we can keep up with the other fast guys here in the EDRS Pro Nordic MC series. We are getting closer and closer every day, and we just need to keep getting more rounds and more information from the bike to be able to keep up the progress. We are racing to have fun and to keep filling our brains with experience and information to use both for our business and for the racing of course. We are always trying to go our own way on the tuning etc. If you always do the same as everyone else, you will never be better than anyone else. You will only be as good, and sometimes it can take longer for us to be as fast as others, but sometimes we also can be faster, because we did go our own way and we are not afraid to try new stuff all the time."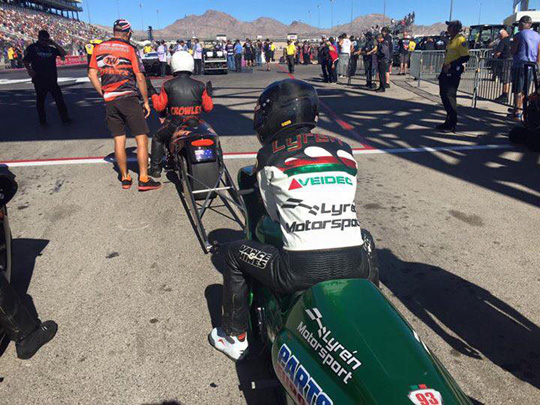 To make the trip to the Gatornationals possible, Lyrén got a lot of support from his American friends. "Greg Underdahl and Gary Stoffer helped us a lot to get this trip together. We will team up together with Karen Stoffer and Jim Underdahl for the Gators. We also got a real good support from Vance&Hines, and last but not least, a big thank you to Eddie Krawiec for his help to make this possible."
Text: Remco Scheelings
Photos: Remco Scheelings and Lyrén Motorsport