Robin Norén makes his Pro Stock dreams come true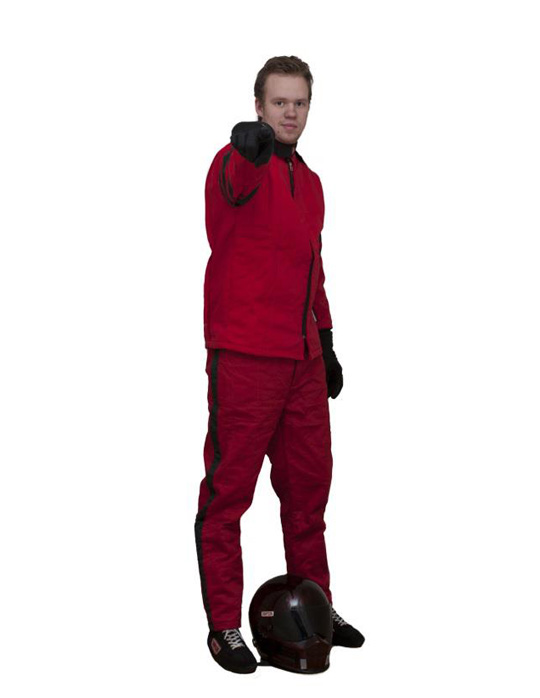 No thoughtless steps for Robin Norén, but a careful planning had to lead to the young Swedish driver's ultimate goal, Pro Stock. After his first starts in Super Comp, he won  the title in this 8.9-second index class in 2013. Competition Eliminator was his next step up the ladder, with a runner-up finish in the 2015 championship as a result. But now it's time for the 24-year old Norén to make his dreams come true and step up to Pro Stock in 2016 with a Pontiac GTO. 
"After the last race, on our way back home, we started  planning for the 2016 season. The whole team talked about Pro Stock, the class we always dreamed of. To compete in Pro Stock, we had to buy a new car. After many discussions with various people about different cars,  the decision was made and we bought Mats Jacobsson's car. It's a Jerry Bickel Race Cars built 2006 Pontiac GTO. My dad was with Mats, and helped him a bit, and that's one of the main reasons that we just bought this car. The engine we start with is built by Steve Schmidt. We know this engine very well and know how it works. That's very important for us, as everything will be new next year, and the absolute last thing we want, is a motor that does not work and causes problems. The engine is getting some updates at the moment. We haven't decided yet what comes next with this engine, time will tell", said Robin Norén about his big step forward.
"The plan for 2016 is to get everything going, and then make as many test runs as possible. We want to do the two races at Tierp Arena and the one in Finland. We would love to go to the last event in England too, but we'll see. Much depends on how the other events have been."
Robin Norén's goal has always been Pro Stock, and step by step he worked towards this factory hot rod class. "I grew up at drag racing tracks as my dad Pelle competed in Super Gas with his Nova for many years. I nagged about getting a Junior Dragster, but I didn't get one. I went to the races for many years and really wanted to buy my first racecar. My dad still had the engine from the Super Gasser, so when I could buy a car, everything would be ready. In October 2010 I bought a Dodge Daytona from Thomas Lindström, and after a long winter waiting and preparing the car, I could finally run my own racecar in 2011. In May 2011, ready to make my license runs, I fell ill and was hospitalized. It looked like the whole season was destroyed, but later that year I could finally do the license runs and could even do two races in Super Comp. In 2012 our goal was to win the series in Super Comp. We did the best we could and ended in second place. So 2013 had to be our year in Super Comp and we wanted to win the title. Dad and I talked over the winter, and he told me that if we won the Super Comp title that year, we would step up to Comp Eliminator in 2014. We did win the 2013 Super Comp championship and as promised, a new class was waiting for 2014", said Norén about the start of his career.
A new engine was purchased for the 2014 season, a Pro Stock engine to compete in Comp Eliminator C/A. "The reason we bought a Pro Stock engine was, that we already knew we wanted to step up to Pro Stock later. But we thought it would be better to take one thing at a time. For us 2014 was a test season, but still we managed to run a new Swedish and European record in C/A with 7.29 seconds at 306 km/h. We finished fifth in the series. In 2015 the goal was to win the EDRS and Swedish Championship. After a very tough season we finished second in the EDRS and fourth in the Swedish Championship. With 7.25 seconds we reset the record again. As I said before, in the bus on our way back home, we decided to do everything we could to go Pro Stock. The rest is history. Stepping up to Pro Stock would not have been possible without our wonderful sponsors, Skandinaviska Teknik & Smörjsystem, Snahr Production allt inom bygg och finsnickeri, JOMS Entreprenad, A3 Ekonomi, A3 Design, Blenco Speedshop and Sixpack Custom. And you can only run Pro Stock when you have a really good team, and that's what we have with Crew Chief Pelle, and mechanics Micke, Bosse, Sarah, Johan, Joakim and Anders. Thanks a lot all of you."