Thomas Stiefel saved his best for the last
After a very difficult start of his first season in Pro Modified, Thomas Stiefel had the European Finals he could only have dreamed of. The Swiss Pro Mod rookie couldn't even make one run at the Main Event, but back at Santa Pod Raceway the beautiful orange Bel Air really took off. Stiefel reset his personal bests almost every run, was the number five qualifier and could only be stopped by European champion Michael Gullqvist in the quarter finals of eliminations. With this great performance the Swiss combination was the big surprise of the last race of the season.
Thomas Stiefel might be new to Pro Modified, but the Swiss drag racer has a long track record in other classes. Stiefel made his first runs in 1996 with a '71 Pontiac LeMans Station in Pro Street. Although he scored two fourth places with the car, he also had some bad luck with it.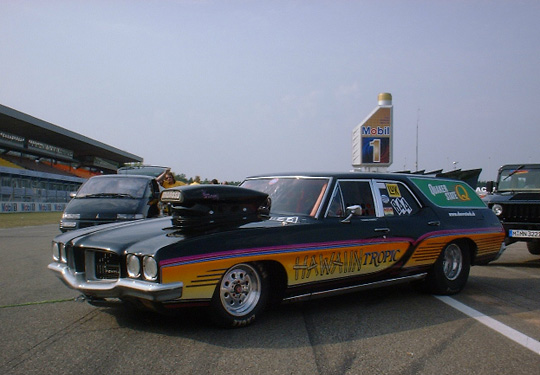 "We bought the car from Urs Embacher.  In Mösslingen, 1998, we broke the engine, came back in 2000 with a new engine, but then had a bad crash with the car in Hockenheim. It was so badly damaged, that it was beyond repair", Brigitte, Thomas's wife, still remembers far too well.
But the Hawaiin Tropic team didn't give up and were back in 2004 with a '37 5 Window Coupé they bought from Rolf Ammann.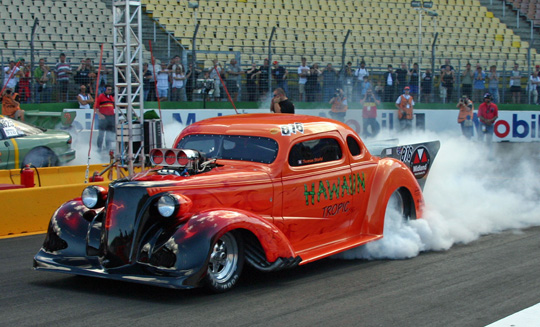 "We drove with this car in Competition Eliminator until 2007, and won twice in our home race at Turtmann. After the 2007 season we had to think about what to do next, as to continue in Competition with the 420cui engine, we had to change the chassis of the Coupé", said Brigitte.
The team decided to make a big step and were back in 2011 with the Pro Mod legal '57 Bel Air, built by Andy Robinson Race Cars in 2010. "To get used to the car, we started with our old 420cui engine in Competition Eliminator and Super Pro ET. After two years we wanted to step up to Pro Mod with the car, and the 521cui we now have", Thomas and Brigitte said. Unfortunately some circumstances forced the team to wait until 2015. "It's always a challenge for us to make our dreams come true. We don't have any sponsors to support us, so we have to finance all ourselves. Pro Mod is the fastest doorslammer class with the most beautiful cars and that's where we wanted to be."
And so, the 2015 Main Event at Santa Pod was their debut in Pro Mod. Despite all the hard work at home, the first race was a big disappointment. "It was not only the first race of the season, but also the first race with our new engine, blower, fuel pump and fuel system. We wanted to collect as much data as possible, as the engine, fuel pump and the blower hadn't run in this combination ever before. We really had to start from zero. We already knew one problem, as we couldn't get the idle speed under 2,000rpm, which would be better for our Lenco Drive. But we didn't know the reason for the high rpms. When we tried to make our first run, we had some kind of backfire and had to go back to the pits. There we still fought the problem with the idle speed and the injector hat which got false air. Camp Stanley, Marcus Hilt, Rolf Ammann and Andy Robinson came by, but no one could really help us. Later Andy came with the manufacturer of these carbon injector hats. He looked at it and saw the problem, as the carbon layers itself were broken. He told us it was too dangerous to drive with this injector hat, and to get a new one would take three or four weeks. We tried to get a used one, but nobody had a spare which we could buy at the track." That also ruined the team's plan to race in Sweden. "We wanted to go from Santa Pod to Tierp, but without an injector hat we had to cancel Sweden and had to go home, order a new Injector hat to be ready for Hockenheim."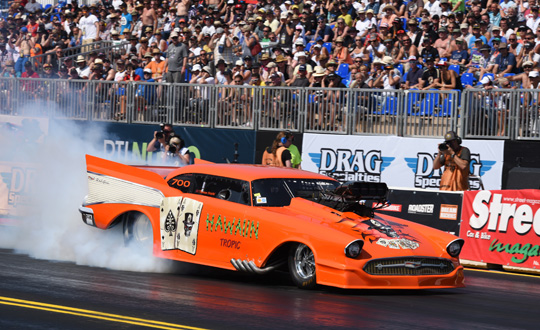 At the NitrOlympX, their 'home race', Stiefel and the Hawaiin Tropic team were back. "In Hockenheim we could make our first passes with the new combination in our Bel Air, and with the help from several people we got faster with every single run. Our goal for 2015 was 6.8 seconds, and the best run we made in Hockenheim was 6.819 seconds! So you'll understand that we were so happy!"
The next and last stop of the season was Santa Pod. "As we made some good and straight runs at Hockenheim, and had data to work with, we were looking forward to the European Finals at Santa Pod. We would have been happy with 6.5 seconds. With the help of Adam Flamholc, we went faster and faster, far better than we could expect for our first season in Pro Mod. We started with 6.26 seconds at 229mph and our quickest and fastest pass was 6.13 seconds at 230mph. And it was amazing how straight the car went down the track." And so the team ended the season on a high, with personal bests and a quarter final finish.
"Now we have to do our homework over the winter for next season. We want to take this opportunity to thank all our good friends who helped us in different ways. Andy Robinson for building this great car, Camp Stanley and Marcus Hilt for their help to get this engine, blower etc., Bruno Bader and Rolf Ammann for their support and help, and Adam Flamholc for his help with the tuning of the car. We're really proud to know all these great guys who are also good friends to us. We also want to thank our whole team for their support, work and everything they're doing for us. We couldn't do what we do without them", said Brigitte and Thomas.