Björn Friström's new ride is 'absolutely crazy'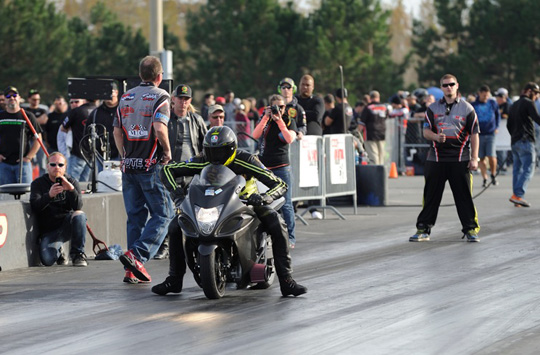 When you want to improve on your performance, you can make some changes to your already championship winning bike. Alternatively, you can buy a state-of-the-art new one, and that's just what Björn Friström did. After winning his second consecutive EDRS Pro Nordic Motorcycle Championship title in Super Street Bike this year, the 45-year old Swede went to the States to pick up his new ride and make his first runs, an experience Friström will never forget and one that sometimes scared him a bit. 
Björn Friström started drag racing in 1989, at 19 years old. After many years with all kinds of GSXRs and Hayabusas, he bought a PST Hayabusa from Anthony Navarro and immediately knew that Super Street Bike was his class. "Anthony is a great stand-up guy and he sold me a great bike. This opened my eyes of what a real bike is. I will never run in another class than Pro Street, or Super Street Bike as we call it here in Europe. But I was stuck with the Magneti Marelli-system. No one really knows it in Sweden, so I wanted to change it to something else. But then I thought that maybe a new bike would be better", said Friström, looking back at his radical decision.
"One year ago I contacted Bud Yoder. I didn't really know him, but he looked fast on YouTube. He was the fastest, so what could go wrong? I wanted a bike identical to his, with all the bells and whistles. At the same time I wanted to get his tuning skills. We talked back and forward during a month, and then I understood that Bud was different from so many Americans I have met and talked to before. He is a doer, not a talker, just like a Swede. He doesn't sell his shit, quite opposite actually.  We decided the terms for the build, and that I should come over to the finals in Valdosta the year after, riding it. The deal was done and Bud Yoder and his team-mate Mark Paquette started with the bike. It sounds like a crazy expensive dream, and I can tell you, it is. I could have bought a summer home for the same amount, but I don't look good in swim trunks……."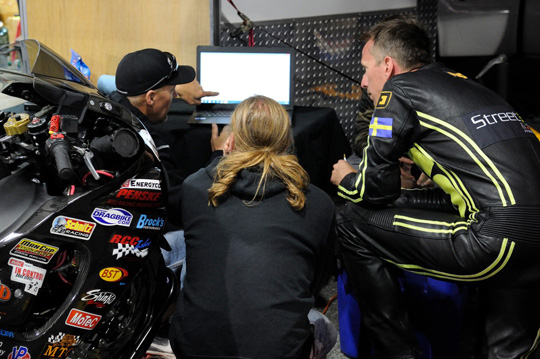 During the year, when Friström was racing in Scandinavia, he hardly had any contact with Yoder. "He emailed me some questions and we talked over the phone a couple of times, that was it. I didn't get a picture and didn't hear of any progress, until nine months after our first contact. There was a picture of a bike, not finished, but almost. At the same time I struggled in our EDRS Pro Nordic MC series and broke all my engines. Well, I finally ended up as the number one, but with more luck then skills. My personal hitman Rick Stubbins was the reason that I won. He put #2 Nils-Ola Andersson out of his misery at the finals at Tierp, so I could win. Thanks Rick. I will send you a can of Surströmming for Christmas", said Friström of his second consecutive EDRS Pro Nordic MC Super Street Bike title.
As the end of the season was there, it was time to go to the States. "The date for Valdosta was getting there, but still no word from Bud or Mark. I called him and he said, 'well, it's done'! And it was. I got the first picture of the bike a couple of days before Valdosta. Me, my wife and kids flew over a couple of days before we had to be in Georgia for the race weekend, to do all the stuff you have to do when you're in Orlando. I will never forget when my phone beeped and I got a message with four pictures of the new bike. I almost shit myself. It was amazing and no corners where cut. Everything that was supposed to be on the bike, was there. And even more. We got to Valdosta on Wednesday before the race, as there was a Test & Tune on Thursday and half Friday. I was eager to see and sit on the bike. Well, if the pictures were great, the bike in reality was absolutely crazy", Friström said about his first look at his new ride.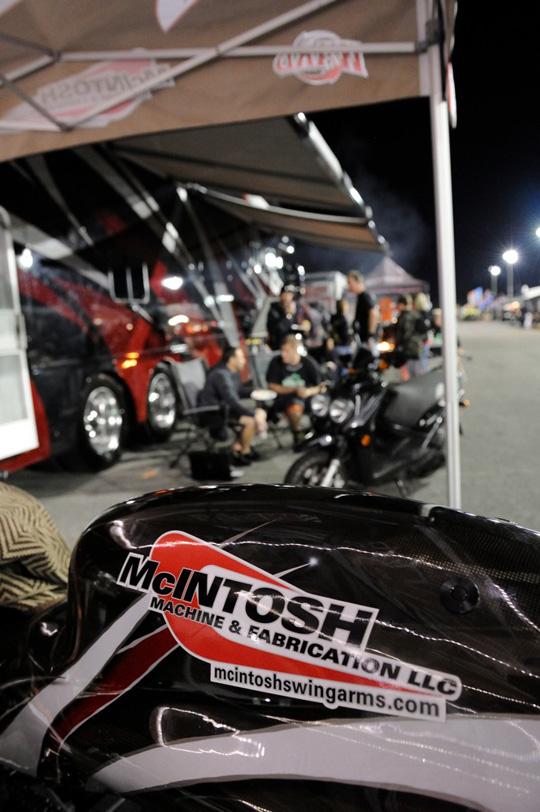 But then it was time for the first runs with the new bike. "Bud tested the bike for two rounds, just to see it roll down the strip, and 'Mr Magic' Terry Mcintosh tuned the chassis for my weight and height. I'm a some kind of freak with my 197 cm, and it's not easy for me to fit on the bike. I know it looks funny, but I'm Swedish and we don't play basketball. Short Europeans are called Englishmen, okay not Bowe, but he's probably Scottish. This is where the whole story should be 'that I run a 6-second pass and won the whole shebang'. But the reality isn't always as good as fiction. Keep in mind that the bike hadn't run before, so we had some issues. But with every small issue, Mark, Bud and Terry had a cure. I slowly got further and further up the 402 meters. I won't try to brag, the bike scared me some. Well, maybe not scared me, but I wasn't as confident on this bike as on my old one. It's brutal, and not as nice and kind as my bike at home. I had a hard time to keep the throttle wide open the first meters. My throttle hand didn't do what I wanted.  Despite this embarrassing fact, I ran my fastest 60ft ever. I didn't qualify and had to run in the B-class. It was going to be my first full pass. I let the throttle go a bit, as the coward I am, and pushed for new gears. As I said, this mother moves. I had some problems to shift to 5th and 6th gear, let go at 1000ft and rolled in at 170 mph. With a shitty 1.28 60ft and an early liftoff, I still ran 7.26 seconds! My personal best after four seasons on my old bike was 7.36 seconds at 200 mph!", Friström says about his first experiences with the new bike. To continue: "7.26, that's thanks to Mark, Bud and Terry. This bike is so awesome and well-built with a killer setup. Everything on this bike is so amazing. It sounds crazy on the twostep and it's so incredible strong all the way down the track. I really must get used to it and become its friend. Having Bud, Mark and Terry staring at me, trying not to shit myself the first time on the bike, wasn't easy. I didn't want to embarrass them or making a fool out of myself. This isn't easy. I have been riding turbo bikes since 1990, got bears and wolves outside my house and a mother in law that wears leopard tights, so I'm not easy to scare, but this bike is a level higher than everything else I have been riding. I hope I'll make them proud the coming season in Europe. The fact is that Bud talked me through this and helped me with the driving bit. Both Mark and Bud are great tuners and riders. They are extremely precise in everything they do. They are real professionals. We don't come anywhere close to this in Sweden. I must say that we are real amateurs, comparing. But I will change that and step it up."
"My weekend with this team was amazing. I filled my pink Hello-Kitty race notebook I got from my daughter with lots of notes. My daughter is still convinced that Buds last name is Yoda, and maybe it is, who knows? It's not just the riding that must work, the tuning is as important off course. I left the bike in Orlando with Swedish Birgitta on Auto Shop for transportation home. My biggest thanks of all my heart to Bud, Mark, Terry and all the other guys and girls in their team. 'I'll be back' as terminator said. My goal for next season is to do better in our EDRS Pro Nordic MC and to win without help from English elders. No, just kidding, I take that back. I take all the help I can get. See you all in the first race at Tierp Arena 2016", said Friström, who can't wait to ride his new bike in Europe.