Gardermoen Raceway beats the weather
Save the best for the last, that was definitely the case for the Drag Challenge 2023. The final day of the Drag Challenge at Gardermoen Raceway was a great one with numerous great runs, close finishes and all eliminations completed.
The weather conditions made it a challenging weekend for Gardermoen Raceway and their hard working crew. Rain on Friday and even more on Saturday curtailed qualifying. But after the rain, there will always be sunshine and that happened at Gardermoen Raceway as well. On the Sunday the weather conditions were much better and the crew made it happen as all eliminations were completed in time. Thus the spectators went home with a good feeling as they didn't only see all eliminations, but also runs of two Top Fuelers, a Top Methanol Funny Car, a Top Methanol Dragster and much more. They will definitely come back!
That the Drag Challenge had a large and international field in almost all classes was visible at the podium as well. There were winners from Sweden and Finland, but also from Germany and even Spain.
Here are the winners and runners-up of the Summit Racing EDRS Series eliminations of the Drag Challenge at Gardermoen Raceway:
Competition Elimination
Winner: Jens Zimmermann
Runner-up: Stefan Winter
Street Bike
Winner: Kristian Grimnes
Runner-up: Oliver Amundsen
Junior Dragster
Winner: Liam McDonald
Runner-up: Adrian Bårdevik
Pro Comp Bike
Winner: Peter Rundström
Runner-up: Robert Nygren
Pro ET
Winner: John Thidé
Runner-up: Svein Bye
Pro Modified
Winner: Jan Ericsson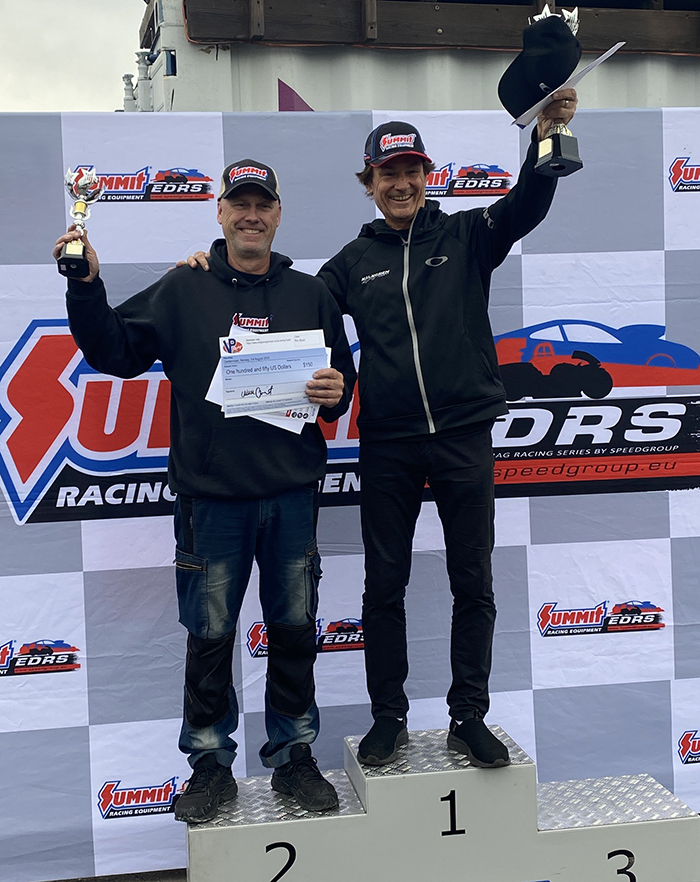 Pro Stock
Winner: Michael Malmgren
Runner-up: Jimmy Ålund
Pro Street
Winner: Angelica Larsson
Runner-up: Joakim Andersson
Street
Winner: Magnus Johansson
Runner-up: Eskil Granslåen Rolstad
Super Comp Bike
Winner: Samuel Rundström
Runner-up: Michael Jensen
Super Gas
Winner: Christer Uhlin
Runner-up: Annica Larsson
Super Gas Bike
Winner: Teodor Norling
Runner-up: Tom Rune Solberg
Super Pro ET
Winner: Angel Romero
Runner-up: Tindra Christensen
Super Street Bike
Winner: Peter Östlund
Runner-up: Dag Wagenius
Super Twin Motorcycle
Winner: Samu Kemppainen
Runner-up: Frank Aaslund
Top Fuel Motorcycle
Winner: Mikko Rajaniemi
For all results see:
https://www.dragracing.eu/results.asp?id=3&year=2023
Text: Remco Scheelings
Photos NDRG Gardermoen