Major investments for Tindra and Tim Christensen heading into the 2023 season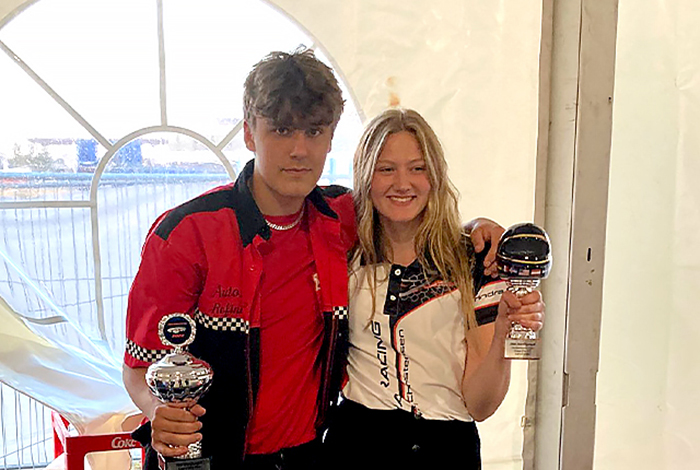 Tindra and Tim Christensen, with their father Kennet and their mother the driving forces behind TC Dragracing, are right now on site at Vårgårda Dragway for the first Summit Racing EDRS Series event. They have been working hard to get all their racing equipment ready for the 2023 season. A brand new engine is on its way for Tim's Pro Stock Motorcycle and Tindra is busy with the paintjob of the body of the bike. Tindra will again compete in Super Pro ET this season, although there are some updates on the dragster as well.
Lyrén Motorsport built the new engine for Tim's Pro Stock Motorcycle and they updated the old, smaller engine, as well. With this engine Tim claimed the 4th position in the EDRS Pro Nordic Motorcycle Championship for Pro Stock Motorcycles last year and also won the Super Comp Bike class at the 2022 NitrOlympX.
"We hoped to be ready in time with the new engine for the Summit Racing EDRS Series start at Vårgårda," said Kennet Christensen, father of the two youngsters. "But Tim will be using the old engine this time, and we are doing everything we can to be ready in time for the first Tierp event." So, keep your eyes open for this rebuild and newly styled Pro Stock Motorcycle at Tierp Arena in June.
Tinda, on the other hand, will remain in the Super Pro ET dragster. But a lot of work has been done there as well. The engine has been gone through and updated. And the safety equipment has been updated as well.
"Except the events mentioned below, Tindra is going to race in the Super Pro ET Swedish Championship," said Kennet. "For three Swedish events, we´re having our racing friend Billy Gane teaming up with us. Then we´re all heading down to Germany for the NitrOlympX. So, we´re going to have a busy season."
Another thing to mention about Tindra, is the fact that she will start a brand new career at the famous Koenigsegg company as a car painter. Big congratulations to her and we all wish TC Dragracing good luck for the coming season.
TC Dragracing want to thank their main partners Solution Team and Golvtjänst i Malmö, Gocart City, Race- Shop Svedala, Malmö Motorrenovering for all their support.
2023 Calendar TC Dragracing
FIA / FIM European Drag Racing Championship and other races
15-18 June, Tierp Internationals, Tierp Arena, Sweden EC
07-09 July, Summer Nats, Malmö Raceway, Sweden
27-30 July, Drag Festival, Mantorp Park, Sweden
10-13 August, Scandinavian Internationals, Tierp Arena, Sweden EC
25-27 August, NitrOlympX, Hockenheim, Germany EC
07-10 September, Euro Finals, Santa Pod Raceway, England EC
EDRS and Pro Nordic Motorcycle Championship
19-20 May, Vårgårda Raceway, Sweden
15-18 June, Tierp Internationals, Tierp Arena, Sweden
04-06 August, Drag Challenge, Gardermoen, Norway
10-13 August, Scandinavian Internationals, Tierp Arena, Sweden
31/9-3/10, Mosten Racedays, Denmark
Text: Lena Perés, Remco Scheelings
Photos: Privat, Remco Scheelings