Johan Lindberg to Drive The Old 51- Injury Sidelines Andersson
Malmö, Sweden (April 9, 2016) – A change to the driver's seat has been announced from The Old 51 Drag Racing Team. Magnus Petersson, owner and crew chief of The Old 51 Chevy Coupe Pro Mod, and driver Niclas Andersson had to make a tough decision this past week with Andersson's back problems preventing him from competing on the FIA European Drag Racing Championship series.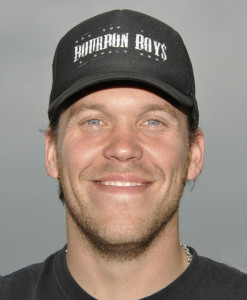 In his place, Petersson has named Johan Lindberg as the driver of The Old 51 for the 2016 season. Lindberg is the 2014 FIA Top Methanol Funny Car champion.
"It's with a heavy heart that Niclas isn't driving the car," said Petersson. "Niclas injured his back, so he wasn't comfortable to drive the car this year. I bought the car in 1998 and have only had two drivers. Niclas has been driving it for nine years, so it was quite emotional when Niclas couldn't drive the car any longer. We have been running the Pro Mod series for the past four years. Last year, we decided to run for the FIA European championship. It's a bit sad, because Niclas was excited about doing it.
"I knew Johan was out of a drive in Sweden and Europe, so we talked together about him driving my car this year. We have had our car for years, and we helped them out when they started and became friends. We get along well. There are only so many guys you can think of that you'd want to drive a car like this. We feel very confident as a team that Johan is the right guy to do this."
Andersson exits the driver's seat with a heavy heart. The supercharged, carbon-bodied Chevy Coupe had won seven Scandinavian Top Doorslammer championships before switching to Pro Mod, and the best seems to be yet to come with the team embarking on an FIA tour.
"I have some back problems with a herniated disc that has gotten worse and worse," Andersson explained. "It was a tough decision to make, but safety has to come first. I've been driving the car for nine years. I love this car. We scored a lot of wins, and it gets faster and faster every year. Magnus and I talked about it, and we thought it would be best to have Johan drive the car. He is a very good friend and a very good race car driver. It is going to be a good year for him and the team. It's a really good race car."
Lindberg is excited about joining the team. With Lindberg Bros. Motorsports becoming increasingly more concentrated in the United States in order to focus on brother Jonnie defending his 2015 Top Alcohol Funny Car championship in the National Hot Rod Association, the opportunity to get back into Pro Mod with an established team of trusted friends is a perfect fit for the 33-year-old from Upplands Väsby, Sweden.
"It felt very good to have Magnus call me up to ask if I wanted to drive the car," said Johan. "I am very happy to do it. Magnus and all his guys are great people who are good friends of ours, so driving for him is going to feel like home. I'm looking forward to driving a Pro Mod car for the first time since 2012. Hopefully, it's going to be a good year."
"It's a good car and a championship contender," added Jonnie. "It works out perfect for me and my brother. He was looking at getting back into Pro Mod, and this allows him to do that with a great team without taking focus away from racing for a championship in the United States with my car."
The 2016 FIA Drag Racing Championship series begins at Santa Pod Raceway, May 27-30. A test is planned to take place at Malmö Raceway May 13-15.
"It's a strong team," added Petersson. "There are very mixed feelings that are difficult to express. I'm very sad that Niclas won't be driving. At the same time, I'm extremely thrilled to have Johan join the team. I think this year is going to be a lot of fun."