A record in participating teams at Nitro Nationals and FHRA was very satisfied with the numbers and traveling teams. More than 260 teams came to the track who have its own beach in the middle of the Finnish forest.
The new surface is very good, but maybe not the fastest of the FIA tracks, yet. But a big potential is laying there and it should be one of the best tracks in Europe in a near future. Thursday Super Pro
Street had a bad crash as Risto Virtala lost traction and got in to the wall badly. Luckily he could get out of the car safely. Next incident was on Friday when Pro Modified Anders Nilsson ended up in the sand box, as the shouts didn't get out. A lots of sand had to be taken care of during Friday night in their pit, and the frontend of the body had to be fixed. But on Saturday the car was race ready again.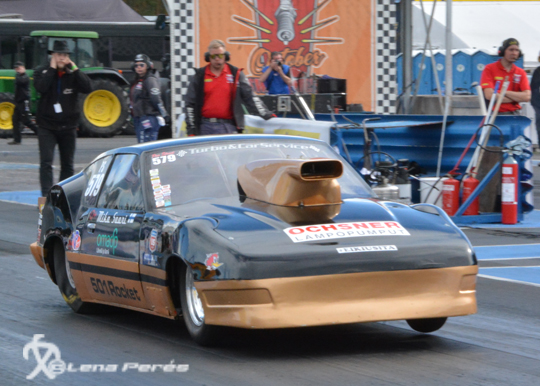 Pro Street Q1 Mika Saari
Else the event went on very smooth and with no more upsets during Friday and Saturday. Sunday started of very good with a sunny morning, so Top Fuel and Pro Mod was able to make one qualifying round. Then this wet thing came down from the sky. The rain seems to follow the drag racing with big intention this year. Interrupting here and there all the time. The track did tried hard to get the track in order, but just when they was able to start racing, the rain and thunder came back and there was no option for the race direction more than to counsel the event, as the curfew was at 7 pm. There was no time to get the track race ready before that.
And just shortly after the decision the rain stopped and the sun came out again. As the event was counselled there was no big upsets in the tables.
Jarmo Grönman Q1 in Stock/Super Stock
Super Street Bike Q1 Richard Stubbins
Super Gas Bike Q1 Janne Koskinen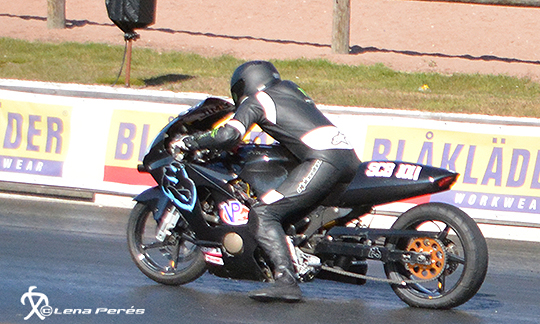 Super Gas Bike Q1 Emil Östlund
Classes:                                                Q1:                                                        
Stock/Super Stock:                               Jarmo Grönman
Pro Street:                                               Mika Saari
Super Comp Bike:                                 Emil Östlund
Super Gas Bike:                                     Janne Koskinen
Super Street Bike:                                 Richard Stubbins