Monthly Archives:
June 2016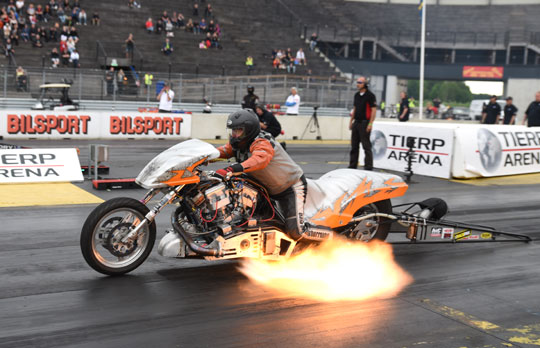 Samu Kemppainen (Super Twin Motorcycle), Kalle Lyrén (Pro Stock Motorcycle) and Rikard Gustafsson (Top Fuel Motorcycle) impressed with dominant wins in their respective categories at the EDRS Pro Nordic Motorcycle Championship season opening Tierp Internationals. All three riders raced to victory from the number one qualifying position at the state-of-the art Tierp Arena facility. In Super Street Bike, Henri Kolehmainen was the surprising winner when favourite and number one qualifier Richard Stubbins' motor failed to start. In Super Comp Bike and Super Gas Bike the finals couldn't be contested as the rain that hampered the Tierp Internationals almost all weekend, came back ten minutes too early.  Continue reading →
Reigning EDRS Pro Nordic MC Super Twin Motorcycle champion Samu Kemppainen impressed at the season-opening Tierp Internationals with another great win. In the final the Finn defeated Greger Johansson. As impressive was the Pro Stock Motorcycle win of Kalle Lyrén at Tierp Arena. Rikard Gustafsson and Henri Kolehmainen were the winners in Top Fuel Motorcycle and Super Street Bike at the first round of the EDRS Pro Nordic Motorcycle Championship.  Continue reading →
Due to the heavy rain that started last night and until now still didn't stop, and the bad forecast for the next few hours, the race director cancelled today's qualifying for the Tierp Internationals, round one of the EDRS Pro Nordic Motorcycle Championship. Eliminations will start at 9 AM tomorrow. As the weather for tomorrow looks good, it will be an action packed day.
Here the link to the eliminations ladders: http://www.dragracing.eu/results.asp