Speedgroup Drag Racing Magazine
Order your copy of Speedgroup Drag Racing Magazine #1 today!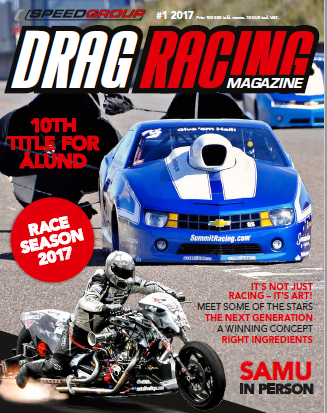 The first edition was launched April 14th and can be mail ordered for delivery to your adress!
The all new Speedgroup Drag Racing Magazine is a printed,  bi-lingual magazine (English and Swedish).
112 pages with an exclusive design. We hope this will be a magazine you wish to return to over and over again!
Order your copy of Speedgroup Drag Racing Magazine below. We use PayPal´s payment solution online with multiple payment options via debet- or creditcard. You do not have to have a PayPal account.
Are you interested to order other quantities than offered below or a different payment option?
– Please send us an email to magazine@speedgroup.eu . You can also adress any questions you may have about the magazine to this adress.
We have placed FAQ and answers at the bottom of this page.
If you can´t find the information you were after there, please contact us at magazine@speedgroup.eu.
ATTENTION RACE TEAMS!
Please note, all drivers & riders registered for any of the Championships and Series Speedgroup work with are entitled to free copies of the magazine. To be distributed to teams at the race events and available at selected shows. Race teams can contact Åsa Kinnemar for more info at asa.kinnemar@speedgroup.eu .
---
ORDERS WITHIN SWEDEN:
---
---
INTERNATIONAL ORDERS:
Includes international postage to any country
---
---
Questions (FAQ) and answers about Speedgroup Drag Racing magazine:
What focus does the magazine have?
–          The Speedgroup Drag Racing Magazine puts focus on the sport of drag racing and in particular drag racing in Europe. It highlights the tracks, events, drivers & teams, corporate partners and other profiles active in the sport which are connected to series and championships Speedgroup is involved in. We are open for feedback and ideas from readers any time. What would you like to read about in the next edition? Contact us at magazine@speedgroup.eu
Can the magazine be read online as an e-publication?
–          No, it comes in printed format only. We believe a magazine is best enjoyed holding it in your hands. There are no plans at this time to publish it online.
Can the magazine be bought in stores or other places?
–          It can be bought at events Speedgroup is present at, races and exhibitions. In addition, we will co-operate with race teams and organisers active in the series and championships and make it available at as many events we can. Feel free to contact us at magazine@speedgroup.eu to inquire if there are options close to your location other than mail order.
Can I sign up to receive the next edition automatically?
–          We don´t yet offer a subscription service. However, if you ordered edition #1 online and entered your email address in the process, we will send out an email alert to you when the next edition is published.
How often is Speedgroup Drag Racing Magazine published?
–          The plan is to publish two editions per year, starting in April 2017. One edition before and one after the race season. We believe it makes sense. The contents will be very varied and provide unique and exclusive values for the readers. Edition #2 is scheduled to be published last week in October, in time for the Oslo Motorshow, and be available for mail orders shortly after that!
How many copies is the magazine printed in?
–          Edition #1 was printed in 20 000 copies.
Who is the publisher and producer of the magazine and where is it printed?
–          Speedgroup is the publisher and for the design and production we have chosen to work with one leading Nordic publishing company Förlags AB Albinsson & Sjöberg in Sweden. They have many titles in their portfolio, among others the magazines BILSPORT, Allt om MC. www.fabas.se The magazine is printed in Vimmerby, Sweden.
Do you accept additional editors and photographers for the work with edition #2?
–          We are open to work with editors and photographers, who can produce interesting material in co-operation with Speedgroup. If you are interested please send an email to project manager Emelie Carlswärd emelie.carlsward@speedgroup.eu to present yourself briefly and show examples of texts or photos you have produced in the past. It is not required that you have had your material published previously. Let us know if you have ideas of how you can contribute to future Speedgroup Drag Racing Magazine editions! Emelie will be able to tell about the conditions we offer after having received your inquiry and presentation.
Are you interested in advertising space in edition #2?
–          Please contact us at magazine@speedgroup.eu for information and options!
Welcome to order your copy of Speedgroup Drag Racing Magazine today!