The 2019 dragracing season is over and winners and runner-ups are selected! Now is the time to highlight everyone who made this summer filled with happenings, fast and spectacular runs among this dragracing family we all are members in. So, don´t miss out to register to the 2019 Banquet the 23rd of November at Aronsborg in Bålsta Sweden. It´s going ot be fun!
After a successful start of the season at Tierp Arena in June, where Tommy Grimes recorded a new personal best on the Beast with a 6.19-second pass, the team were back at the same track in August for round four of the EDRS Pro Nordic Motorcycle Championship, the Summit Racing Equipment Internationals. Continue reading →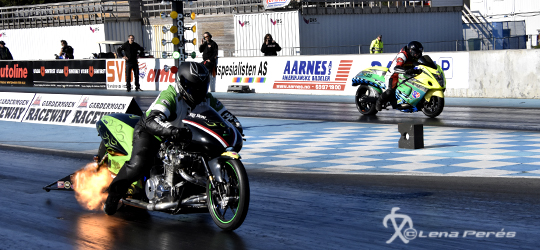 The last event of the Summit Racing EDRS Series season is over and we can sum the weekend at Gardermoen Raceway and Drag Finals as a nice and mostly sunny event. 186 teams was registerd for this weekend and there was hard battles between the racers to take the win. Here is the winners of the Drag Finals and big congratulations to all the talent drivers.