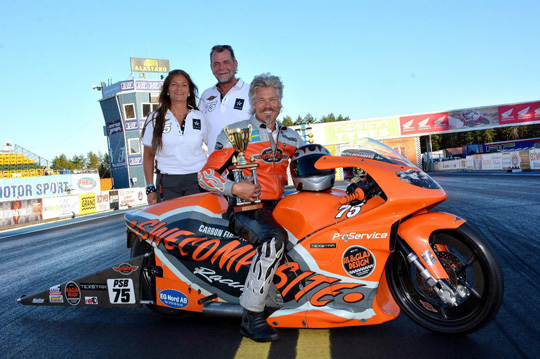 Kenneth Holmberg and his Swecomposite Pro Stock Motorcycle team are working hard on their preparations for a busy 2016 season.  "We are working hard on updating the bike and on appearing at some partners/company events during the spring. There is a lot of planning to be done for 20,000 kilometers of travel during the race season", said Kenneth Holmberg.  Continue reading →
As the 2016 FIA European Drag Racing season approaches, kicking off at Santa Pod, England in May, there is much news in the class to relate.
For the 2016 season, NHRA have mandated the use of Electronic Fuel Injection (EFI) engines. The familiar hood scoops of Pro-Stock cars are no more, at least for the American racers of the NHRA. In Europe, the teams will be allowed to continue with naturally aspirated, carburettor power plants for the 2016 season. An EFI team would be allowed in to competition this year, however there are no such equipped teams therefore it is a largely irrelevant point. Continue reading →
On Saturday February 13th it is time for the annual swap meet Åby Motormarknad, held in Åby just outside Norrköping Sweden. The event attracts hundreds of vendors of racing parts and thousands or visitors all connected to drag racing.
Speedgroup has a stand at Åby Motormarknad and our staff will be happy to discuss anything connected to the EDRS, EDRS Pro Nordic, FIA Championship or Dragracing SM. Stop by and visit us if you are on site!
For more information about Åby Motormarknad please visit www.abymotorklubb.se