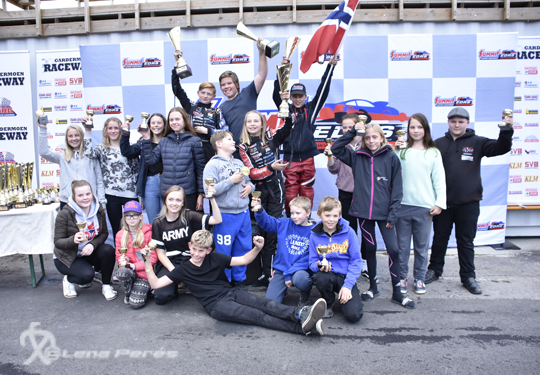 Al Junior drivers of the weekend in one place.
Last Summit Racing EDRS Series event has come to an end, and we have had a great weekend here at Gardermoen Raceway and the Drag Finals. A few drops of rain but mostly sun. Down below is the winners of Drag Finals 2017.
The European Finals at Santa Pod Raceway was the sixth and final race of the 2017 FIA European Drag Racing Championship. Bad weather hampered the grand finale, but the champions couldn't be stopped by the rain as they all reached the finals in their respective categories. With Duncan Micallef, Timo Habermann, Michael Gullqvist and Bengt Ljungdahl the FIA European Championship got the champions that deserved the titles the most, and luckily, the title race in all four classes was already decided before the rain brought an early end to the last event of the championship. The qualifying and eliminations results were published on Dragracingeurope.eu during the event, and all details can always be reviewed in the excellent live coverage on Eurodragster.com. In this article we look back at some highlights and notable events of the European Finals. Continue reading →
Another season have soon has passed and we are heading towards the Finals of the Summit Racing EDRS Series. This year Gardermoen Raceway north of Oslo is hosting the event. 138 teams are showing up to fight for the last points of the season at Drag Finals .