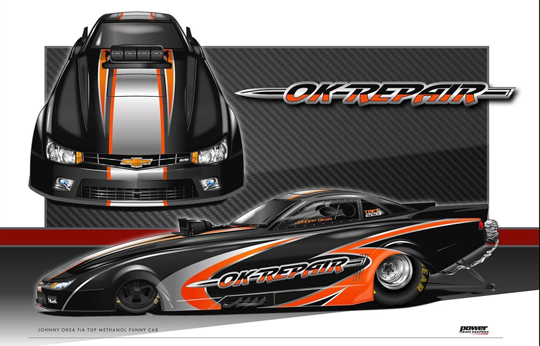 After winning the 2016 FIA European Top Methanol Funny Car Championship, Johnny Oksa took a year off to come back at last year's Tierp Internationals at Tierp Arena. It was a dramatic return to the track as Oksa suffered a devastating crash in qualifying that brought an end to his season before it had even started. Shaken, not stirred, 'the beast from Finland' wanted to be back on track as soon as possible, and with a new car, Oksa will celebrate a second comeback in 2019! Continue reading →
From 2019 there will be a big change for the Competition Eliminator-class. Since the cars in the class turns to be more and more extreme and even more dependent of well-prepared tracks, it´s decided that it is time for them to move into the EDRS Pro-segment, together with the already existing Pro Modified, Pro Street and Stock/Super Stock-classes.
Harry Granlund, Annette Heleander and Göran Ekendahl at The Strip in Las Vegas, working with the Safety Safari, the NHRA counterpart to the Safety Group and our track staff throughout Europe.
Last October, a group of Swedes attended a couple of NHRA races. The Las Vegas Toyota Nationals was first out on the tour and they spent four full days together with the NHRA Safety Safari. It is the American equivalent of our Safety Group as well as the staff handling track preparation around Europe. Next up on the tour was the Auto Club NHRA Finals at the Auto Club Raceway in Pomona.