Monthly Archives:
June 2017
Tommy Grimes  raced to the number one qualifying position in Super Twin Motorcycle at the first day of qualifying for the Tierp Internationals, the season-opening round of the EDRS Pro Nordic Motorcycle Championship. In Top Fuel Motorcycle Rikard Gustafsson claimed the number one qualifying position. In Pro Stock Motorcycle and Super Street Bike Kalle Lyrén and Mogens Lund are the leaders at Tierp Arena after two Friday qualifying runs and still two qualifying runs on Saturday to go. Continue reading →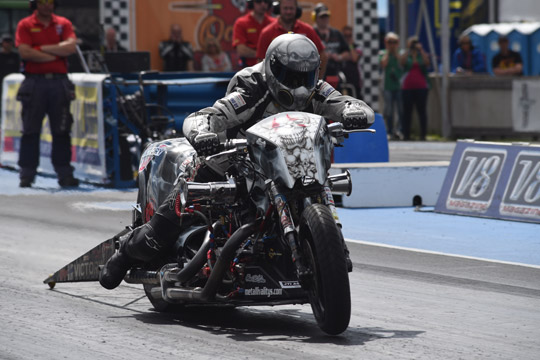 With two races separated by only one weekend off, the EDRS Pro Nordic Motorcycle Championship kicks off in high gear. The Tierp Internationals at Tierp Arena is once again the first meeting of the season, and after a one weekend break, the EDRS Pro Nordic MC teams will immediately meet again for round number two, the FHRA Nitro Nationals at Alastaro. The championship counts six different categories and will be decided in four races. The Tierp Internationals will be a first indication to see who are the favourites. Kalle Lyrén (Pro Stock Motorcycle), Samu Kemppainen (Super Twin Motorcycle), Thomas Pettersson (Top Fuel Motorcycle), Henri Kolehmainen (Super Street Bike) and Bianca Nilsson (Super Comp Bike) will all defend their 2016 titles, but will meet tough competition. A new champion will be crowned in Super Gas Bike after Janne Koskinen stepped up to Pro Stock Motorcycle this winter. Continue reading →
Tierp Internationals 2017 is up in just a week and here is the schedule for the weekend. So, make up your plans for a great racing weekend at one of the world's best drag racing arenas.