Monthly Archives:
February 2016
On Ferbruary 3rd, Speedgroup´s CEO Åsa Kinnemar paid a visit to Tierp Arena for a meeting with Pierre Tilleaus,
the local operations manager since the autumn 2015. She took the opportunity to take a tour and check out what the now completed conference facilities look like… Continue reading →
Read the EDRS Guidelines Online, click the link!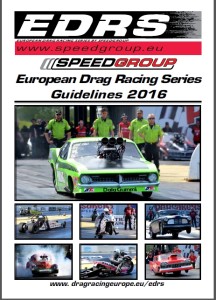 EDRS Guidelines 2016 (pdf)
The EDRS Guidelines 2016 is an official document, which can be downloaded or read online. It serves as support for all parties involved in the EDRS Series. The document contains a lot of important information for anyone planning to take part in an event run as part of the EDRS Series. It is highly recommended that teams and organisers look it through before the season.
Link to Printout high resolute version here:
EDRS Guidelines high resolute (7MB)
The EDRS Guidelines is published by Speedgroup.
Motorcycle enthusiasts and the trade gathered in Gothenburg for the annual exhibition MC mässan January 28-31st.
The show traditionally attracts more than 40.000 visitors in four days. Speedgroup´s Roger Lyrén was on site and took the opportunity to promote the 2016 calendar for the EDRS Pro Nordic Motorcycle Drag Racing Championship, which include two events at Sweden´s Tierp Arena (June and August), the Nitro Nationals at Alastaro in July and Drag Challenge at the new drag strip Gardermoen Raceway in Norway at the beginning of August.
In the Swedish drag bike federation Svemo´s stand, Anders "Jösse" Olsson showed interested visitors the Top Fuel Bike of Peter Svensson and Billet Racing. This week a motorcycle show is  arranged in Helsinki and Speedgroup will be represented there too by Roger Lyrén.